Focus is on patient safety and quality care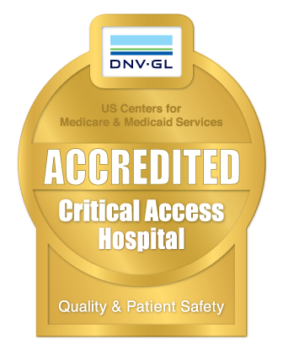 Why seek accreditation?
Accreditation is a way for a healthcare organization to meet regulatory standards established by The Centers for Medicare and Medicaid Services (CMS). Not only meeting regulations, but also demonstrating the organization's commitment to high levels of performance and patient care by driving Continuous Quality Improvement.  Accreditation programs directly impact the clinical outcomes by improving the structure and process of care which ultimately help in delivering safe, high-quality patient care.
What is the desired destination?
Estes Park Health has received accreditation from DNV GL-Healthcare. DNV GL's innovative program begins with initial accreditation, then following a three year program integrates ISO 9001 compliance to further develop quality standards to the international level.
Estes Park Health is committed to patient safety, well-being and quality. Accreditation moves us to a new level. "We have been looking forward to taking this next step by receiving this accreditation," says Lyda Gardiner, Director of Quality, Risk and Case Management, BSN, M.Ed., B.Ed., B.Sc. "We believe the DNV GL program is more closely aligned with leading quality and patient safety practices that will facilitate growth in our organization. Accreditation with DNV GL sets a higher bar, beyond the basic requirements, for hospitals to put a greater focus on national best practices in all areas of care and services." Estes Park Health is one of the six Critical Access Hospitals in Colorado that have received DNV GL accreditation.
ISO 9001 is the preeminent quality management system used by people-intensive businesses around the world. A growing number of U.S. hospitals are embracing ISO as a way to identify, standardize and then continually improve upon the most successful approaches to patient care, billing and other critical aspects of running a modern hospital.
"We want hospitals to succeed and we don't believe accreditation should be an inspection just looking for faults," says Patrick Horine, president of DNV GL – Healthcare. "Our entire approach is predicated on innovation and continuous improvement."
To learn more about Quality and Patient Safety at Estes Park Health, visit eph.org/quality.