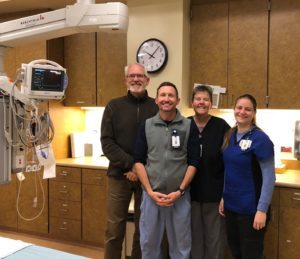 Our full-service Emergency Department is open 24 hours a day/seven days a week and staffed by board-certified physicians and nurses.
Going to the Estes Park Health Emergency Department most likely is not on your top 10 things to do.  We truly understand if you never want to meet our amazing Emergency Department staff. But there might be a day, when you find yourself needing our assistance. On that day, the very best thing you can do, is to be prepared.
When you enter the Emergency Department it important for you to have the following information for registration:
Have an emergency contact name and phone number. This person should be able to provide you with a ride home in the event you're prescribed pain medications.
Have your most current and complete address.
Have an updated phone number.
Have your insurance information. Please note: Care will never be delayed based on insurance status.
Have the name of your primary care physician. Your emergency room physician is not your primary care physician.
Have your DNR or Advance Directives paperwork.
The Estes Park Health Emergency Department staff will ask you, and everyone that enters the Emergency Department, the following questions:
What is the reason for your visit?
Have concise information that includes when your symptoms started and a description of the symptoms. If you had an accident, like a trip and fall, include the time it occurred and how it happened.
Who is your primary care provider?
What medications are you taking?
It is important that you can provide us with a complete and readable list of all the medications you are taking. We are legally required to confirm each medication on your list. We cannot pull up your medications that could be listed in your medical records.  Please make sure your list is only your medications and that it doesn't include other family member's or your pet's medication. If you bring your medication with you, it needs to be in the original container. Bringing in your daily pill box filled with your medications will not help us. We are unable to identify your medications.
Do you have any allergies?
What is your previous medical history?
What conditions have you been treated for in the past, and are you currently being treated for any conditions?
What is your previous surgical history?
When and what procedures have you had?
What is your vaccination status?
Tetanus, Flu, Shingles, Pneumonia, and childhood vaccinations for pediatric patients.
You will also be asked several additional screening questions so that we know how to best treat you:
Do you smoke, or have you smoked in the past?
What is your current alcohol usage?
Do you use drugs of any kind – recreational or illicit?
Have you recently traveled outside of the country?
Have you been exposed to Tuberculosis, HIV, Hepatitis C or other communicable diseases?
You will be asked "safety at home", suicide and nutritional screening questions.
Having all of this information gathered in advance and available to give to the Emergency Department staff, will allow us to quickly and safely provide the care you need. It is our privilege to take care of your emergency needs and we thank you in advance for being prepared.
Should it become necessary, our team coordinates all aspects of inpatient transfers and referrals, including transport via ground (ambulance) or helicopter.
Estes Park Health Saved Cynthia's Life