Virtual Visits with Estes Park Health Physician Clinic Providers
Connect with us without leaving your home.
Technology affords a convenient way for our patients to connect with an expert Estes Park Health provider. Plus, you keep yourself and your family safer by avoiding unnecessary travel and contact during this COVID-19 outbreak. If you'd like to learn if a Virtual Visit is appropriate for you, please contact the Estes Park Health Physician Clinic at 970-586-2200 to speak with a staff member. You may also send a message through My Health Connection, which is the platform required for virtual visits. You can create an account via the "Create an Account" button below.
Please note, you need access to a computer, tablet or smartphone, Wi-Fi and audio and/or video through your device. If you use a computer, you do not need to download the app. Also, patients may be any age; however, if the patient is under 18, a legal guardian must be present at the time of the Virtual Visit. During your virtual visit, your provider determines the appropriateness of addressing your health concern either virtually or in-person.
Prepare for your Virtual Visit – 15-20 minutes before your appointment
Remember you need to be completely logged in for your visit 15 minutes prior to the scheduled start time of your virtual visit. (ex: Your appointment is at 11:00 a.m., echeck-in no later than 10:45 a.m.)
Find a quiet and comfortable location for your virtual visit. A clinical staff member will call you prior to your Virtual Visit to verify pertinent medical information in preparation for your provider visit.
Log into your My Health Connection. Make sure you are logged in on one device and not multiple devices. (Example: Don't be logged in on your phone and computer at the same time for your telehealth visit.)
1. Click on View your instructions for appointment.
2. Click on echeck-in then Review and Sign Virtual Visit consent form.
3. Click on the highlighted message Join your room.
4. Once on the Vidyo page, write your name in the text box.
5. Click Join.  (Estes Park Health will not be able to provide technical support to patients for Virtual Visits.)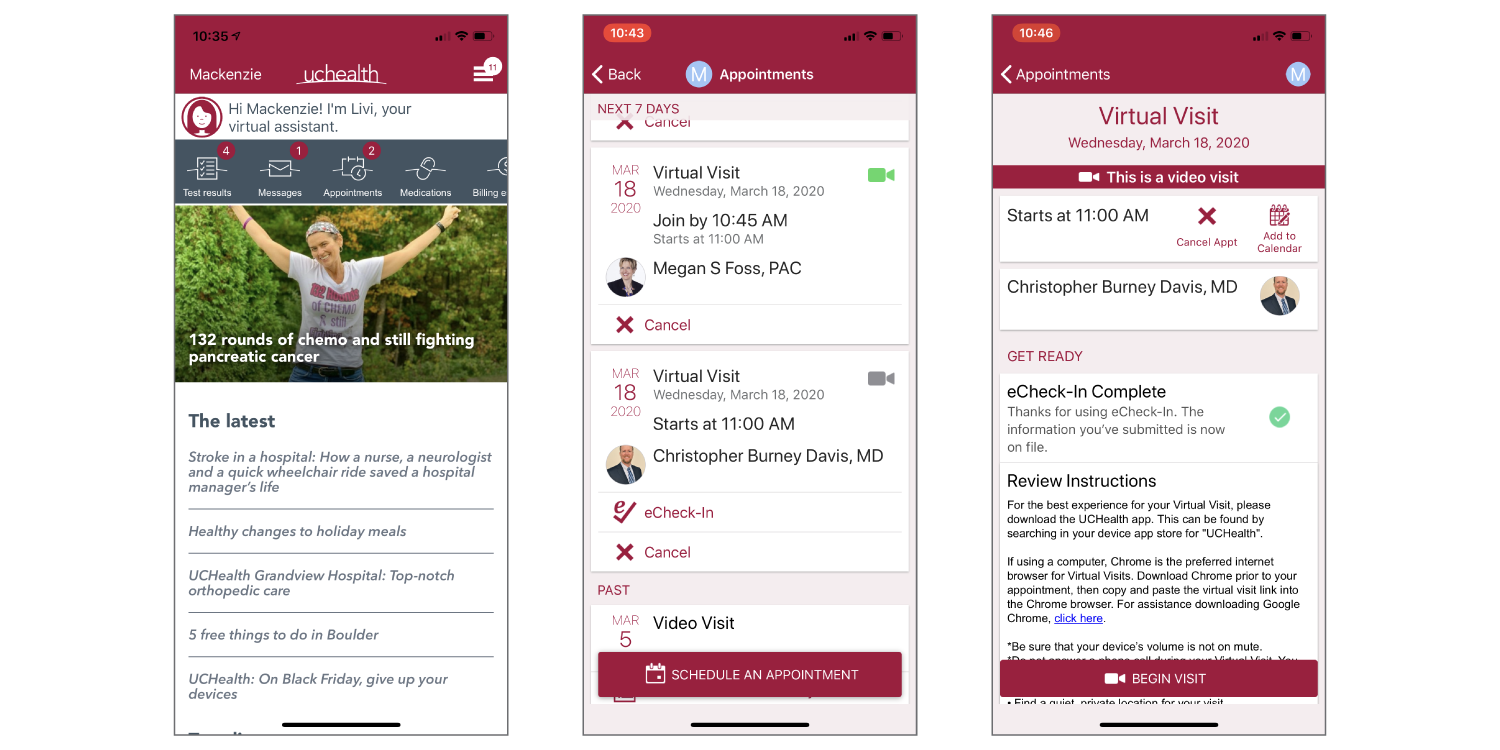 After your Virtual Visit
Your provider will confirm pharmacy details with you and send in prescriptions (if ordered) after your visit.
Your provider may recommend that they still need to see you in-person. An in-person visit would be a 2nd billable visit.
The Virtual Visit will be billed the same as an in-person visit.
Tips for a successful Virtual Visit
Smartphones are preferred. If using a Mac computer, download Google Chrome, as Safari is not supported.
Make sure you download the My Health Connection/UCHealth App on the mobile device you wish to do your Virtual Visit (example: smartphone, tablet, iPad).
Prepare for the appointment in a private place with a good internet connection. On your personal computer or Mac, use Chrome as your browser.
Be sure your internet connection is strong enough to play video online. If your internet connection is not strong enough to play a video, the visit breaks up and is unclear.
If you are using your phone for the visit, and then answer a call after you have joined the Vidyo room, this will cause audio errors. To fix the audio errors, you will need to end the Virtual Visit, go back in through the app and join your visit again.
Be sure the volume is turned up and the mute button is off.
When not to use Estes Park Health Virtual Visit
If you have suffered a serious injury or have symptoms of a serious condition such as chest pain, difficulty breathing, severe abdominal pain, or have a possible emergency, go to the Estes Park Health Emergency Department.
If you need a physical examination, lab work, X-rays or other procedures, you need to schedule an appointment to see a provider in person. Call Estes Park Health Physician Clinic at 970-586-2200 or you can request an appointment through your My Health Connection patient portal.
For non-emergent concerns, your Estes Park Health Physician Clinic provider determines the appropriateness for addressing that concern virtually or in the office. Connect with your provider through My Health Connection or call 970-586-2200
Estes Park Health Virtual Visit FAQs
Providers and patients "see/hear" each through a secure video or audio chat.