Estes Park Health Mission: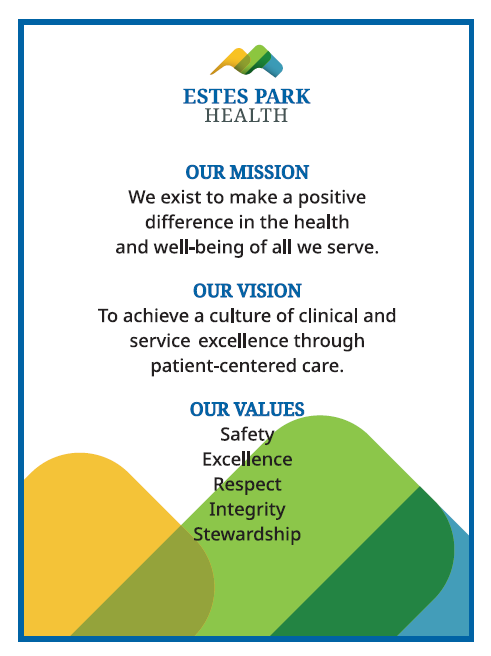 We exist to make a positive difference in the health and well-being of all we serve.
Estes Park Health is comprised of skilled, compassionate caregivers. We are a critical resource in our mountain community, providing the full spectrum of care for our friends, neighbors and visitors, from pediatrics to geriatrics. With a persistent dedication to patient-focused care, we continue to score high in patient satisfaction surveys.
Estes Park Health  was founded in 1975 as the Elizabeth Knutsson Memorial Hospital per a tax subsidy voted on by the citizens of Estes Park. Today, over 18,000 patients—residents and visitors alike—see our health care teams for both outpatient and inpatient services. Estes Park Health offers comprehensive care through:
A 23-bed critical access acute care facility
Emergency Department provides 24-hour emergency care to the community and 4.5 million visitors
Emergency Medical Services/Ambulance Services showcases highly skilled EMS paramedics who respond to over 2,300 calls per year
Level IV Trauma Center stabilizes and directs patients to the correct level of care for life-saving options
Physician Clinic provides primary care, as well as medical and surgical specialty care, to our community and visitors
Medical and Surgical Services deliver surgical expertise from colonoscopies to total knee replacement and our Med/Surg Unit cares for patients requiring an overnight stay
Home Health supplies a combination of medical and non-medical services in a patient's home
Hospice Care walks with patients and their family at the end of life
Estes Park Health Vision:
To achieve a culture of clinical and service excellence through patient-centered care.