Visit eph.org to answer your questions!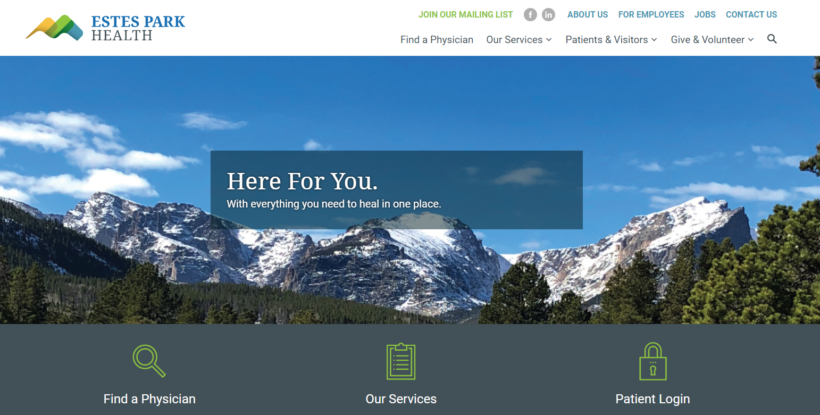 Want to know more about Estes Park Health?
Estes Park Health is moving at the speed of healthcare – that's fast. We work to keep our community informed by putting articles in the paper, posts on Facebook and sending stakeholder emails. But, we want to remind you that your greatest resource for up-to-date information about Estes Park Health is eph.org.
Estes Park Health's home page provides links to learn more about our providers (Find a Physician), to learn more about the services provided under the Estes Park Health umbrella (Our Services), to answer questions about billing, medical records and pricing (Patients & Visitors) and share valuable insight into the Estes Park Health's Foundation work (Give & Volunteer).
From the home page, you can sign up for our email list to receive timely stakeholder emails about happenings at Estes Park Health. If you'd like to know more about our Board activities, our Senior Leadership Team, News and Quality and Patient Safety, click on "About Us". In case you're looking for work, or know someone who is, simply click the "Jobs" link. If you'd like to ask a question, click on "Contact Us", fill out the form and submit it. The forms go to the Marketing Director, who sends the queries to the most appropriate Department Director for a response.
In the "News" section, under "About Us", you'll find every press release that has been written since June 2018. There is no need to wonder about what is happening with the Urgent Care Center, there are four press releases explaining the progress. It is our goal to make sure our community is informed about the progress being made in all areas at Estes Park Health. Eph.org can be your trusted resource for information. And remember, if your question isn't answered on the website, use the "Contact Us" option to ask your questions and receive information.
You can also send any questions to info@eph.org. This is also monitored by the Marketing Director. We think it's safe to say, if you have a question then there are probably others in the community with the same question. Your questions can fuel our press releases, so that the correct information is being shared.