VIDEO: Reclaim your best life close to home with EPH rehab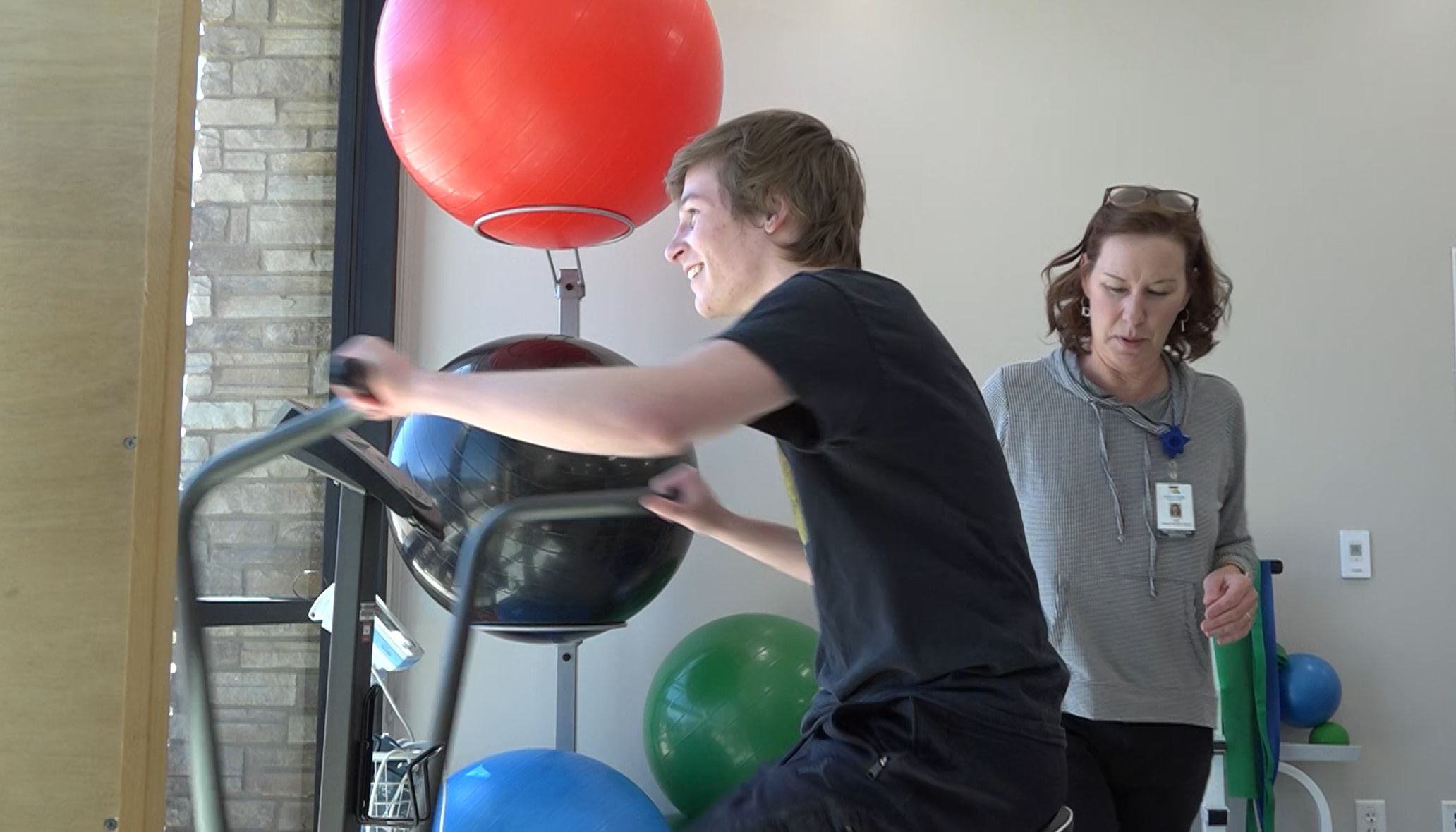 Whether you need monitored exercise, deep massage or the right machine to help you reclaim your health and function, the specialists at Estes Park Health's Rehabilitation Services are ready to help you get back to good.
"The help I've gotten here has been incredible," said Shirl Lawrence of Estes Park. She had both knees replaced. Now, she is turning to physical therapist Kathy Giesige of Estes Park Health to work out some of the stiffness that's been restricting her activity.
"She's top-notch, definitely," Shirl commented. "Riding a bike is my main goal. And getting in and out of a kayak."
Kathy has worked in physical therapy for four decades. She enjoys working with the patients in Estes Park.
"They're very motivated," Kathy pointed out. "They have good goals and want to get back into life, enjoying the outdoors. PT is basically treatment of the extremities including the spine. And it's meant to regain motion, strength, balance."
Recently, one of the patients enjoying the spacious new rehab gym at Steamer Drive is 17-year-old Bram Jackson, a high school senior.
"I tore my ACL while wrestling," he explained.
Bram relies on his physical therapist to guide him through recovery from a surgery at Estes Park Health three months ago. He comes to rehab twice a week and says it's going well.
"Recently it's been a lot of cardio, a lot of squats, lunges," he said. "My big goal is just to get back to 100 percent."
Seventeen therapists work in outpatient and inpatient rehabilitation at Estes Park Health. Those who work at the Rehab Services clinic enjoy the spacious facility next to the Urgent Care. The Urgent Care opened in 2020 and Rehab Services moved down from the main EPH campus at that same time.
"We're very hands-on, creative people who care about our community," stated Kendra Vancil, EPH Rehabilitation Manager. "We have a beautiful new facility. Each therapist has their own private room as well as this beautiful, state-of-the-art gym."
Speech language pathologist Annie Boyd uses her decades of experience to help patients like Susan Raso of Estes Park.
"I had a stroke ten years ago," Raso said. "I couldn't work anymore. I think my brain is still here, but as far as my mouth, it doesn't seem to be working."
Annie uses her skills to help with communication and cognition.
"I see a lot of patients here who are post-concussion," she noted. "That can be from falls during the winter. It can be young people. It can be people who are in their early 20s all the way up to the elderly."
A speech-language pathologist also helps patients with swallowing issues. Some people take what's called a modified barium swallow study, providing the experts with a moving x-ray to help determine how to address disorders called dysphagia. Annie said her patients are grateful for specialized rehab close to home.
"They've gone to, say, Loveland, Longmont, Fort Collins," Annie said. "And then they get referred here or discover, 'Oh, you have therapy. You have a rehab facility here in Estes Park.' And they're so appreciative of that."
Occupational therapist Paul Asher works with patients who need upper-body strength and coordination. As he puts it, his target area is from the shoulders to the fingertips. Paul has many tools to help people with everything from fine motor skills to dexterity.
Paul's counterpart at the hospital is occupational therapist Therese Cinotto who works with patients recovering from orthopedic issues, strokes or neurological problems like Parkinson's Disease.
"As an occupational therapist, your job is to be a problem solver for the patient," Therese stressed. "And so you help them work out what is interfering with their ability to complete their roles and their routines that they do throughout their day."
Estes Park Health also offers outpatient cardiac rehab on the main campus.
Currently, 85-year-old Lowell Krandell of Estes Park is being guided by Cardiac Rehab nurse Susan Armitage. He had a stent placed in an artery in his heart and his physician referred him for rehab after the procedure.
"You won't believe my tutor," Lowell said while smiling. "Susan is really a charming person as well as technically proficient. I'm sure I could do it with somebody else, but I'd rather have Susan taking care of me."
Susan explained that she tries to get people to do 30 or 40 minutes of exercise raising their heart rate to a safe level.
"That's what's going to build up their heart and lungs," Susan said. "I think the thing I like the best is that they always get better. Usually they're nervous about, you know, what's going to happen. And we just take it really slowly. And everyone does at their own pace. By the end of cardiac rehab, everyone feels better."
Lowell is noticing the difference. Like all Estes Park Health rehab patients, he said his amazing views of the mountains serve as a motivation to get better.
"I'm spoiled," he added. "I can't believe what a view I have and how clean and spacious this room is."
The closeness and convenience of local rehabilitation is a big help to the Estes Valley community.
"It just takes me a few minutes to get here from my home," physical therapy patient Shirl said. "And then to be able to sit and enjoy the sun, the snow or whatever's happening out there, is very special."
For top-notch physical therapy, occupational therapy, speech therapy and cardiac therapy, choose Estes Park Health. Reclaim your best life, close to home.
For more information, log on to www.eph.org/rehabilitation-services/.