Take Time to Celebrate Memories of a Loved One with Estes Park Health Hospice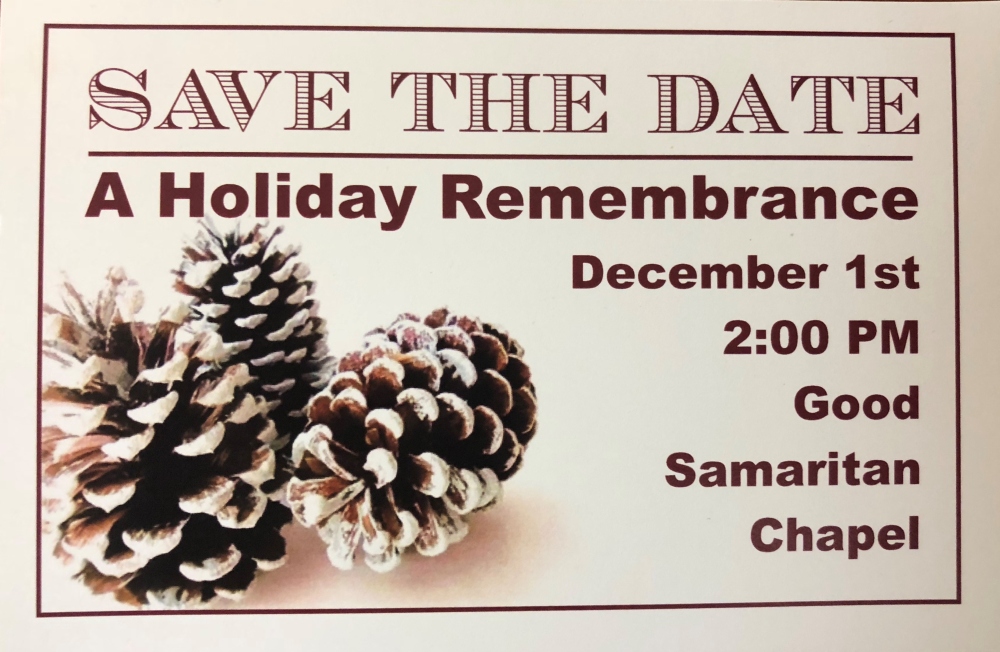 The holiday season can be a difficult of time for people who have experienced the death of a loved one. Holidays are usually a time of joy, family togetherness and thankfulness.  However, if you are grieving, the holidays can also bring times of emptiness, isolation and intense sadness.
Estes Park Health Hospice Care invites  you and your family to a "Time of Remembrance" to honor your loved one on December 1 at 2:00 p.m. in the Good Samaritan Chapel-Estes Park Village (1901 Ptarminga Tr.). The Hospice Care Team will be available to help the Estes Valley community remember those who have passed over the last year and those we continue to grieve. This event is free and open to families and individuals who would like to honor a loved one.
The full sense of the loss of a loved one never occurs all at once, and the onset of the holiday season can shine a light on how much your life has changed. Taking time to be with others and sharing memories is a reminder that you are not alone.
More about Estes Park Health Hospice: Hospice is not a place, but is high-quality care that enables patients and families to focus on living as fully as possible despite a life-limiting illness. It is essential that people understand that hospice and palliative care is not giving up, it is not the abandonment of care, it is not reserved for the imminently dying. Hospice is a successful model of person-centered care that brings hope, dignity and compassion when they are most needed.
One of the most common regrets we hear from hospice patients and their families is the delayed decision to choose hospice care. It is essential to understand the need of individuals and families to fully understand the options when approaching end of life. Nearly 30 percent of Medicare beneficiaries receive hospice care for seven days or less, a period considered too short to take full advantage of the many services the hospice interdisciplinary team offers
Every year, nearly 1.5 million Medicare beneficiaries receive care from hospices in this country. Hospice provides pain management, symptom control, psychosocial support, and spiritual care to patients and their family caregivers when a cure is not possible. More information about home health care, hospice, palliative care, and advance care planning is available. Call 970-586-2273 or visit us on our website eph.org/hospice.