Quota Club is one of Estes Park Health's Vibrant Partners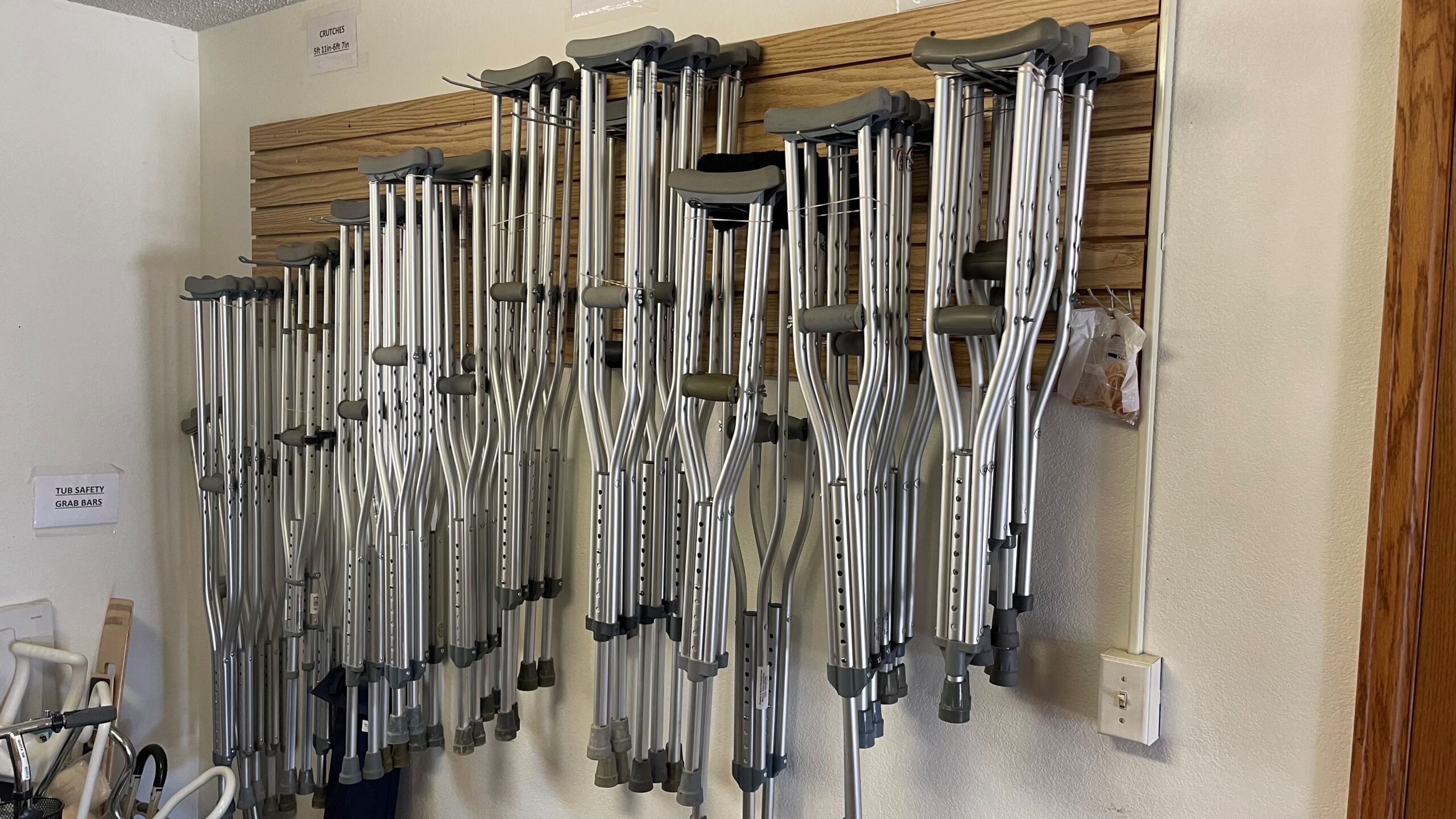 Quota Club member Marilyn Irwin of Estes Park was preparing dinner at home on a weekday evening at the end of June when she got a call from Estes Park Health. A patient who had surgery late in the day needed a knee scooter to take home before she could be released.
As one of the volunteers who runs the Medical Supply Loan Closet on the grounds of Estes Park Health, Irwin sprang into action and headed to EPH.
"We're on call," Irwin explained. "If we can, we meet people at the Loan Closet. It was dinnertime, but that didn't matter. I was fine with coming and helping them out. That's the whole point of it. We're very happy when we have people come and want to borrow something from us."
Estes Park Health's Interim OR Manager, Sarah Orial, said the patient had undergone an open reduction/internal fixation of a non-healing fracture of the ankle. She had been using crutches, but after the procedure, she was unsteady. The surgeon did not want her to put weight on the ankle for a while. The knee scooter provided by the Loan Closet allowed her to be mobile without putting undue pressure on the joint.
"Estes Park is a close-knit community," Orial commented. "People want to help take care of each other. The Quota Club Loan Closet is a valuable asset to the staff and patients at Estes Park Health. I think it's huge. Insurance doesn't always cover the cost of this equipment. Sometimes the need is last-minute."
Patients can either give a donation to Quota Club or put a deposit on the rental. Loans are intended to be on a temporary basis up to three months. The Loan Closet offers an impressive array of medical equipment including wheelchairs, canes, hospital beds, crutches, shower chairs, and toilet risers.
All equipment was purchased new by the Quota Club and is housed in the garage of a small house on the EPH campus at 555 Prospect Avenue.
"Purchasing this kind of equipment is very expensive," Irwin pointed out. "An individual who might need a knee scooter for six or eight weeks, often can't afford to buy it. If they want to rent it, they must go down to the valley. We think this is important for the people who come here. We have guests in town who have an accident while they're here. They can come and get crutches or a wheelchair, whatever they need for the time they are going to be here. Of course, we also serve anyone who lives in the Estes Valley."
Quota Club raises money through community events
The Quota Club hosts community events to raise money for services like the nonprofit Loan Closet.
The group puts on The Taste of Estes at the YMCA of the Rockies. It's a special evening of dining and socializing with Estes Valley restaurants providing delicious samples showcasing their cuisine.
Quota Club also hosts the Festival of Trees. During the holiday season, more than 40 holiday trees decorated by local businesses, artists, and Quota members are on display at The Estes Park Resort and Dunraven Restaurant lobby. Supporters buy tickets for chances to win a tree.
For more information about the Quota Club, https://estesparkquota.com. If you need to borrow medical equipment, contact the hospital or the Quota Club to set up a time for a volunteer to meet you at the Loan Closet.