Plan on donating blood Dec. 14 at Estes Park Health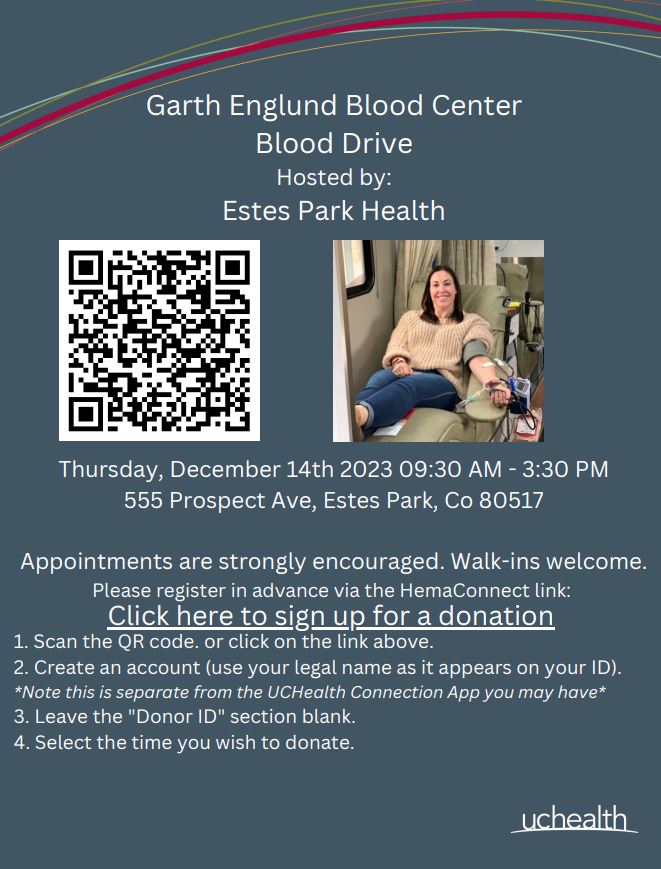 Estes Park Health is hosting an on-site blood drive on Thursday, Dec. 14, 9:30 a.m. to 3:00 p.m.
You can sign up ahead of time at https://blood-donation.uchealth.org/donor/auth/signin or walk in on that day.
It takes approximately 30 minutes to save up to three lives through blood donation. All blood types are needed, but O-, O+ and A- continue to be in high demand.
Did you know that one pint of blood can be separated out into its components – red blood cells, platelets, and plasma – and save three local hospital patients? By making blood donation a regular habit, the lives you'll impact can add up quickly.
Why not get started today? Schedule your appointment to save those in need in your community. Click the link below to book your time.
Please remember, if you've had your COVID vaccine, we welcome you to schedule your donation on day 15 or after post vaccination.