New! Medication Take-Back Station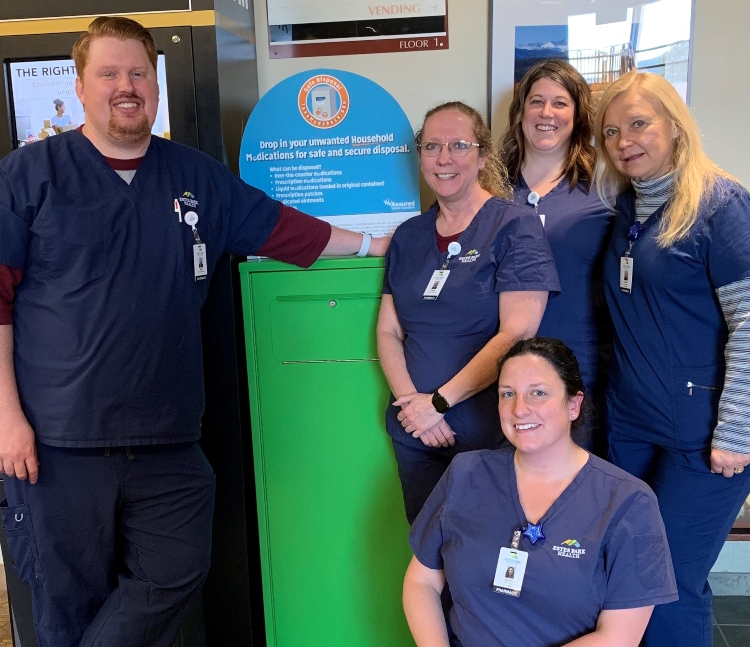 Located on the First Floor in the Physician Clinic Waiting Room. Take back hours are:
Monday – Friday from 8:00 a.m. to 5:00 p.m. and Saturday from 8:00 a.m. to 12 noon.
Please use your medications safely:
Use medications only as directed
Ask your doctor or pharmacist for advice
Only take medications prescribed to you
Don't share with others!
Learn how to store your medications safely:
Monitor your medications
The medicine cabinet may be the worst place to keep them
Lock-up them up!
Ask visitors to keep their medications out of site or provide them a locked storage location
Ask relatives to secure their medications before your children visit them
Teens say prescription drugs are easier to get than beer
Generally, Colorado teens believe prescription drugs are safer to use than street drugs because they are prescribed by a doctor
Pain medications rank third among substances causing fatal poisonings of children under 6 years old
Nearly 50% of all pet poisonings involve human drugs
The far reaching impact of unused drugs:
40% of medications dispensed outside of hospitals may be wasted. Reasons drugs go unused:

Ineffective
Undesirable side effects
Change in treatment
Symptoms Improve
Patient death
Over-prescribing
Over-packaging

Unused drugs spend too much time in the home

50% – 1-5 years
25% – 1-12 months
19% – 5-10 years
5% – less than 10 years

Unused drugs in the home contribute to opioid abuse.

55% obtained free drugs from a friend or relative
3% were prescribed by one doctor
4% bought from a friend or relative
8% took from friend or relative without asking
4% got from a drug dealer or stranger
How do you dispose of medication properly?
Bring unused medication to the Take-Back Station at Estes Park Health, 555 Prospect Ave, Estes Park, CO 80517, 1st floor near Physician Clinic waiting room.
If you have no other choice to dispose of medication:

Remove medication from packaging and destroy labels to protect privacy.
Mix medicine with something that can't be eaten – kitty litter or coffee grounds – to prevent accidental or intentional misuse of medication by another person or animal.
Wrap mixture in another material – newspaper or paper bag – or place medicine mixture in a sealable container – can, jar, plastic bag.
Throw into the trash on trash day, don't let medication sit in your trash unsupervised.

Do not do the following with your unused medication:

Flush them down the toilet – this takes medication into water supplies and treatment plants are not designed to remove medications.
Put them in the trash, without following the steps above. Animals and people can be poisoned.
 The following items can be accepted in the Take-Back Station:
Prescription medications, including prescribed controlled substances (DEA Schedule II-V)
Over-the-counter medications
Liquid medications (small amounts in original, non-leaking containers)
Medication patches (Used Fentanyl and Duragesic patches are extremely hazardous. They may be folded in half, sticky side together and flushed down the toilet.)
Medication samples
Medicated ointments
Vitamins
Pet medications
Unused drug injection cartridges – unused EpiPens and insulin pens. (Must be unused with needle still protected inside.)
Unused inhaler canisters – Advair, Spiriva, ProAir, Ventolin. (Must be unused, empty canisters or unneeded plastic holders/mouth pieces.)
These items CANNOT be accepted in the Take-Back Station:
Marijuana
Illicit drugs (DEA Schedule I drugs like heroin, LSD, etc.)
Needles, syringes and other sharps. Sharps must be taken to the Emergency Department.
Chemotherapy drugs
Medical tools and supplies
Bloody or infectious waste
Personal care products
Thermometers
Empty containers
Medication waste generated by health care facilities, including nursing homes
     For more questions visit:
takemedsback.org
takemedsseriously.org