Mountaintop Medicine: Nutrition Notes — A Guide to Healthy Eating on the Go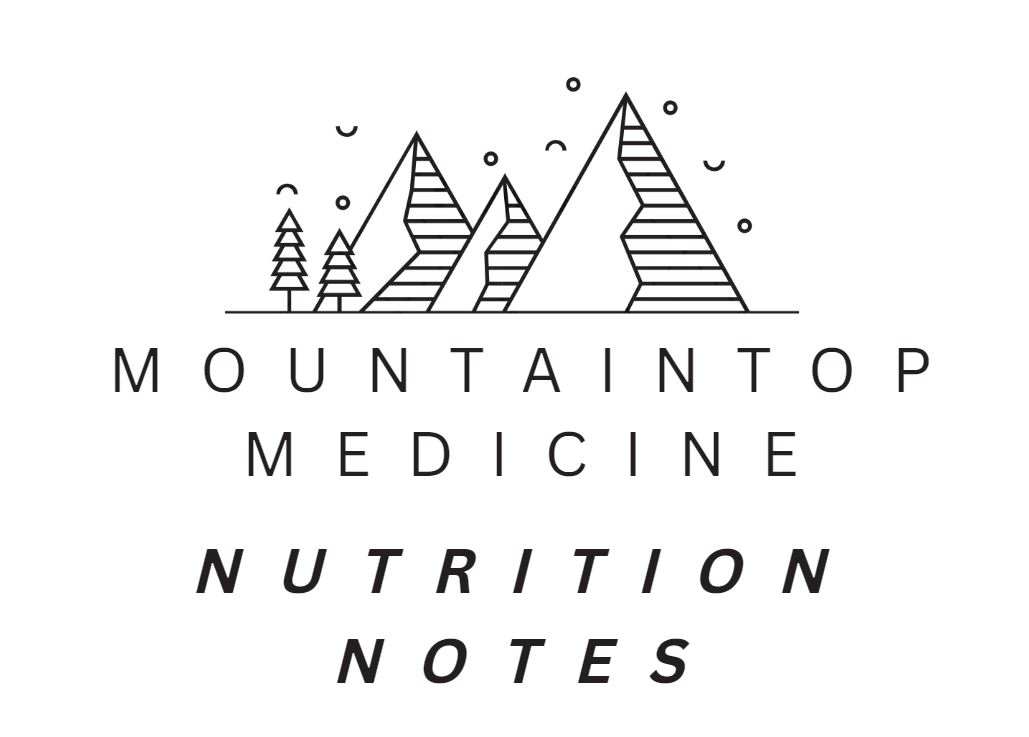 Hello again from Mountaintop Medicine: Nutrition Notes! In today's world, we are all so busy and it can be easy to turn to prepackaged convenience foods or fast food when we are in a jam. These foods are often laden in calories, fat, and sodium, which can have a detrimental effect on our health. You may be tempted to skip meals. It may also be difficult to find out where to purchase nutritious foods, decide what you should pack for lunch, and determine how to purchase a balanced meal while eating out. Good news! You do not have to sacrifice your nutrition on the go, here are some tips for healthy eating when you are busy or in a hurry:
Prioritize eating nutrient-dense foods because they will do a better job of satisfying you. Choose or cook batches of vegetables, beans, lentils, whole grains like oats, quinoa, rice, poultry, and fish.
If you know you are going to be busy, plan your meals and snacks ahead of time. In your free time, make a grocery list and buy the foods you want to eat and make time in your schedule to cook or prepare the foods. Make snacks ahead of time and store them in your pantry or refrigerator.
Cooking in batches and eating on the leftovers throughout the week can help you to save time. You can prepare entire meals or meal elements such as a lean protein like chicken or fish, brown rice, or a cooked vegetable to have on hand when you need to create a quick meal.
Keep snacks simple- choose one or two ingredients such as fruit and Greek yogurt, apple and peanut butter, chopped vegetables and hummus, or string cheese and beef jerky. Mixed nuts and seeds, fresh fruits, dried fruits, and hard-boiled eggs make great snack additions.
Smoothies can be another easy snack or meal option. You can toss as many ingredients as you like into a blender and freeze to drink throughout the week. You can also prep bags full of premeasured smoothie ingredients to make a serving of smoothie for a quick meal or snack before you head out the door.
Buy or make nutritious bars. Protein or energy bars can be a super easy snack when you are on the go or on the road. You can make bars from simple ingredients such as rolled oats, nut butter, protein powders, nuts and seeds, and dried fruits. If you plan to purchase bars, look for ones made with few ingredients, a lower sugar content, and a higher content of fiber and protein. Some of my personal favorites include Lara bars, Go Macro bars, and RX bars.
When dining out at restaurants, you can review online menus prior to arriving and have a plan of what you would like to eat. Be mindful of your portion sizes and opt for smaller or shared desserts. Keep the basics of healthy eating in mind when ordering. For example, try ordering a source of lean protein such as chicken or fish paired with a vegetable or side salad and a carbohydrate source such as a baked potato.
The bottom line is that your nutrition does not have to be compromised with a busy schedule. With a little bit of planning, healthy eating can be as easy as tying your shoes! If you have any questions or if there are any nutrition-related topics that you would like me to discuss, please reach out at LGardner@EPH.org.