Know How to Properly Dispose of Sharps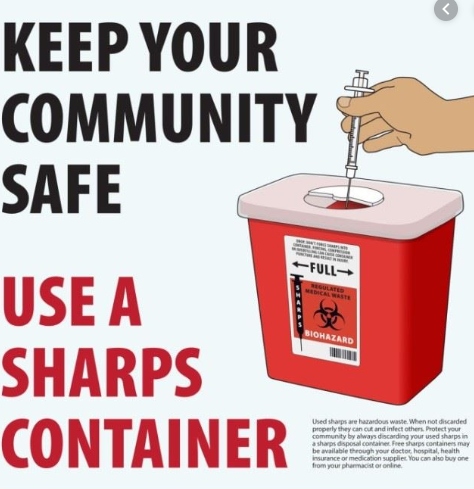 Estes Park Health has had many questions recently about the proper disposal of "sharps". Sharps is a medical term for devices with a sharp point or edges that can cut or puncture the skin. Many people use sharps at home, work or while traveling to manage medical conditions like diabetes, cancer, arthritis, blood clotting disorders and more. Each year approximately nine million sharps users will administer at least three billion injections outside of a health care facility.
Estes Park Health Patient Care and Safety Committee wanted to share some important disposal tips with the Community to ensure we keep our community safe. Here are some tips for properly disposing of used sharps:
Sharps should always be placed in a strong, plastic container.
Sharps should never be thrown loosely into the trash or toilet.
Sharps that retract after use, or are very small, should be disposed of like all other sharps.
Sharps should never be recycled.
Estes Park Health will take used sharps in the Emergency Department. Check at the Emergency Department Admissions Desk for directions. Sharps should not be placed in the Medication Take-Back Station located in the Estes Park Health Physician Clinic. Estes Park Health employees and volunteers are not allowed to handle sharps for any person but will direct you to the proper sharps disposal container in the Emergency Department.
There are also two locations in Northern Colorado for sharps disposal: Larimer County Landfill, 5887 S. Taft Hill Rd., Fort Collins, CO 80526 and Northern Colorado Health Network, 400 Remington St. Suite 100, Fort Collins, CO 80525. These locations require that sharps are brought in approved sharps containers. Sharps are not accepted in other containers or loose.
For additional sharps education, please visit safeneedledisposal.org and make sure you know how to properly dispose of sharps for yourself, a family member and your pet.