Estes Park Health's occupational therapists help patients regain important life skills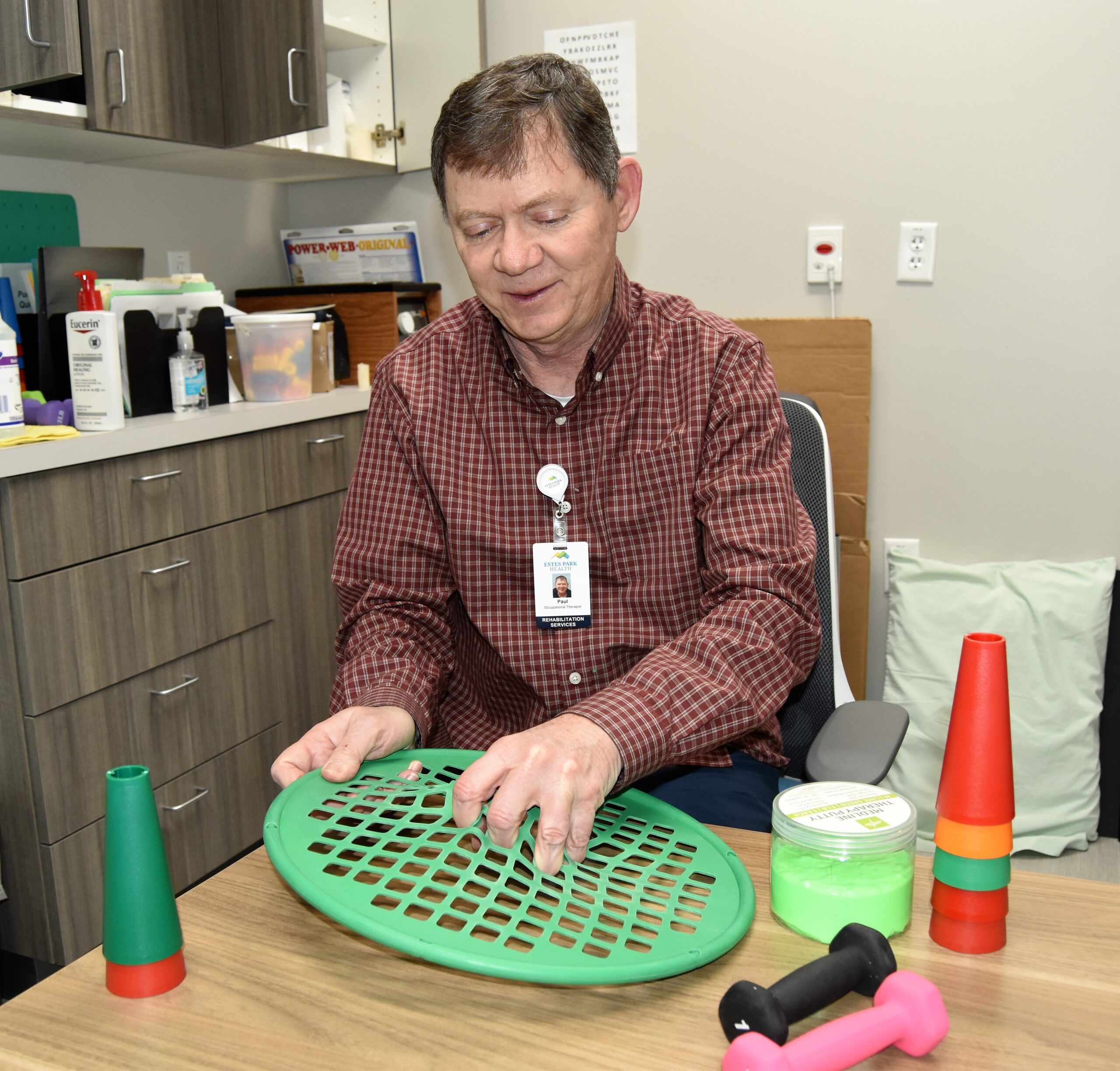 April is Occupational Therapy Month
Occupational Therapist Paul Asher's tools of the trade are different than many healthcare workers. His office is filled with splinting materials, adaptive devices, a paraffin hand bath and plastic pegs and cones. Asher's job is to help patients regain function after illness, injury, surgery or a new medical diagnosis.
"We are the therapy that addresses the upper half of the body, from the shoulder to the fingertips, Including strength and coordination," Paul explained. "We also are the therapy that looks at what people do in their everyday lives, from the very basic care activities like getting up in the morning, getting dressed, getting safely into the bathroom."
While Paul works in the outpatient Rehab Services clinic located next to the Urgent Care clinic at 420 Steamer Dr, his colleagues help patients in the hospital at Estes Park Health at 555 Prospect Avenue.
Therese Cinotto and Lynn Stepaniak work with people recovering in this hospital to regain as much of their function as possible before that leave EPH for home.
"Occupational therapy really uses assessment and intervention to help people regain and restore function in their life," Therese said. "It's a holistic occupation where we look at their habits, roles and routines and try to get them back to doing the things that are important to them. That could be dressing, bathing, grooming, taking care of pets, going to the grocery store, getting back to work, driving, all kinds of things. In the hospital setting, we see a lot of elderly folks who are really working hard to stay in their homes here in Estes Park. Maybe some kind of diagnosis or disease process has hindered that ability to be successful at home. We set them up so they can be successful at home and be safe and continue to age in place."
The overall goal of occupational therapy is to help people overcoming an adverse life event to be as safe and as independent as they can be in their own environment.
"Occupational therapy is a critical part of a patient's return to function after a life-changing event such as an injury, a surgery or a new diagnosis," explained Kendra Vancil, Rehab Manager for Estes Park Health. "Our patients need this help to return to their function at home, with family, at work and out in the community."
Occupational therapy is usually performed over a matter of days, weeks or months. Many times, it is a necessary service that is covered by insurance.
Along with physical therapy, speech therapy and cardiac rehab, occupational therapy completes the circle of care many patients need.
Estes Park Health Rehabilitation Services understands that the road to recovery requires a skilled and personalized treatment plan. At EPH, rehab services coordinates care with medical providers to ensure a comprehensive plan of care that enables patients to meet their goals. We work with every resident of, or visitor to, the Estes Valley to provide options which include occupational therapy.
Our specialized treatments include:
Activities of Daily Living (ADL) Training: Therapy centered on activities such as personal hygiene, dressing, feeding oneself and mobility.
Orthopedic Rehab: Evaluation and treatment of the hand, wrist, elbow or shoulder injuries that may result in loss of motion, function, or cause pain and swelling including carpal tunnel syndrome, tendonitis, writ and elbow fractures, trigger finger or complex regional pain syndrome.
Splinting: Fabrication of hand and wrist splints to improve joint positioning, hand function, stability and joint protection. Custom made splints allow us to provide an individualized and unique treatment plan.
Cognitive Therapy: Assessment of functional cognition for the treatment of dementia, Alzheimer's Disease, stroke, Parkinson's Disease, head/brain injuries for the improvement of attention, decision-making, memory, problem-solving and safety awareness.
Our outpatient Rehab Services office has one of the best views in Estes Park and provides a calm, professional environment for recovery.
"You've kind of got to pinch yourself every day," Paul commented. "It basically looks like a postcard out the window."
Occupational Therapy Month
The American Occupational Therapy Association celebrates Occupational Therapy Month each April to honor this vital profession and the meaningful difference occupational therapists make in the lives of clients.
According to the AOTA, "Occupational therapy is a science-driven, evidence-based profession that enables people of all ages to participate in daily living or live better with injury, illness, or disability. This is accomplished through designing strategies for everyday living and customizing environments to develop and maximize potential.
By taking the full picture into account—a person's psychological, physical, emotional, and social make-up—occupational therapy assists people in:
Achieving their goals
Functioning at the highest possible level
Concentrating on what matters most to them
Maintaining or rebuilding their independence
Participating in the everyday activities that they need to do or that simply make life worth living
Occupational therapists and occupational therapy assistants are experts in helping people perform the occupations they need and want to do every day."
There are more than 98,000 registered occupational therapists currently employed in the United States.
For more information about occupational therapy at Estes Park Health, log on to eph.org.