Estes Park Health's cardiac clinic plays an important role in Estes Valley heart health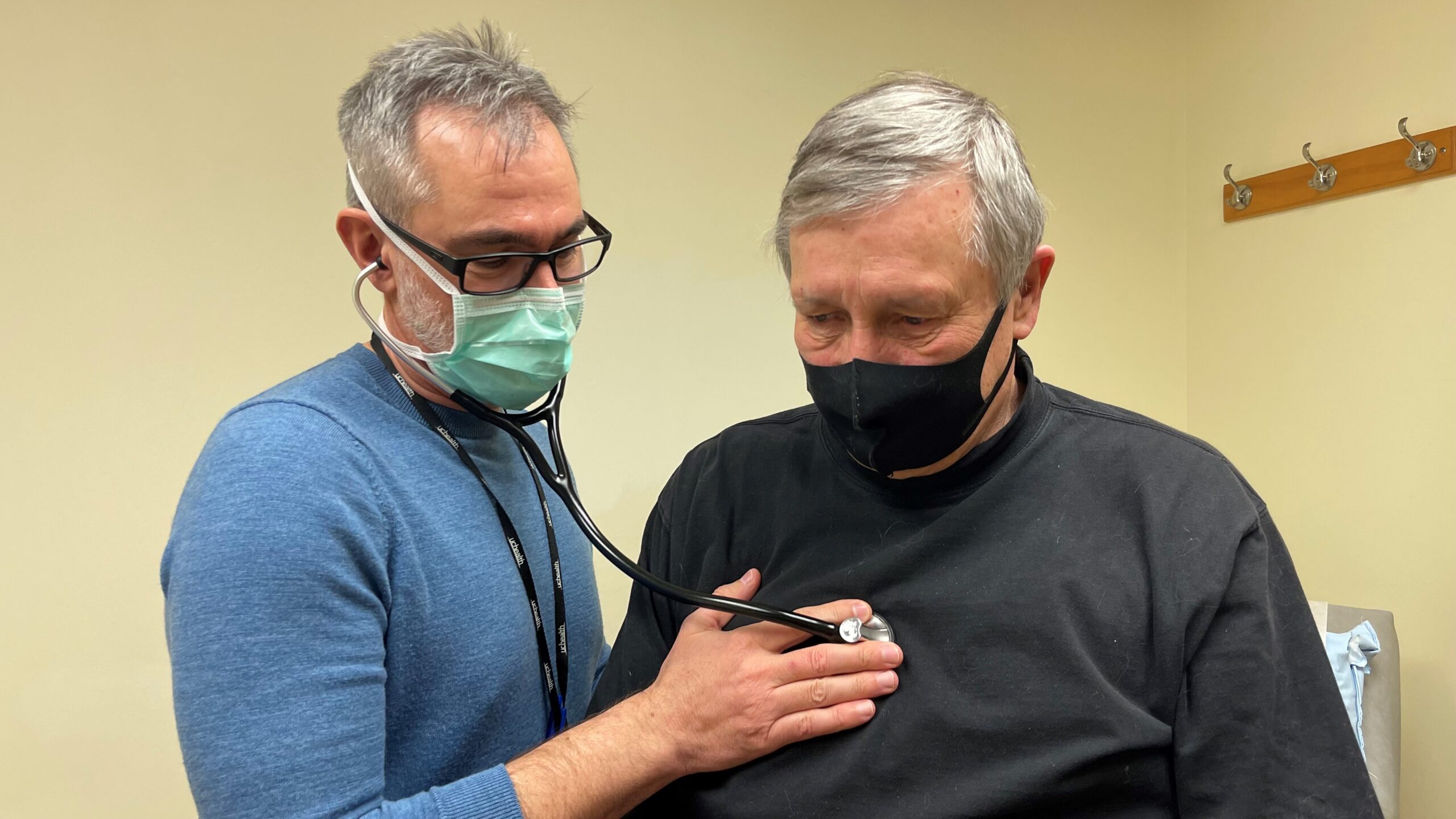 When he needs his heart checked, 71-year-old Mark Rissmiller of Estes Park simply drives ten minutes from his home to get the expert care he needs.
"It's really important to have this quality cardiology care so close for everybody," Rissmiller, who has a pacemaker, emphasized. "We're doing preventative stuff and I'm on some meds, just trying to keep the battleship going in the right direction."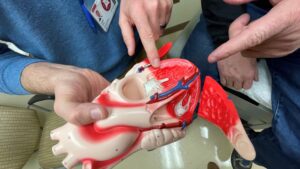 His cardiology is Dr. Chad Stoltz of UCHealth who sees patients three days a week in the Cardiology Clinic at Estes Park Health. The other two days a week he performs interventional cardiology procedures at Medical Center of the Rockies in Loveland. Dr. Stoltz has been taking care of patients in Estes Park since 2007. He's part of a team that includes UCHealth cardiologists Dr. Wendy Austin, Dr. C. Patrick Green and Dr. Stephen Treat.
"It's really important to have this care here where people visit and live," Dr. Stoltz said. "The relationship that UCHealth has with Estes Park Health is a very good relationship. We take care of a lot of patients up here. A certain number of patients are too sick to manage at this hospital. Sometimes we simply need to get them down to a lower altitude and a hospital that has other procedures where we can take care of their needs."
The cardiologists who see dozens of patients each week at Estes Park Health not only manage chronic conditions like heart failure and coronary artery disease. They also take care of residents and visitors in times of crisis.
"We get a lot of young patients, even very young patients, with no cardiac history," Dr. Stoltz explained. "They may come up here from Florida and decide to hike up Longs Peak and they discover that just getting out of the car at 7500 feet of elevation puts a lot of strain on them and they struggle. Then there are a lot of people with cardiac conditions who thought maybe it was a good idea to come up to Estes and have a family reunion and it turns out that altitude really gets them."
In addition to his clinic patients, Dr. Stoltz and the other heart doctors also see patients in the emergency room and in the hospital.
"I think in the vast majority of cases, people with some heart issues come up here and as long as they don't push themselves too hard do reasonably well," Dr. Stoltz added. "But there is a small percentage who really decompensate (functionally deteriorate) and just don't do well at this altitude."
Teamwork is crucial
63-year-old Katy Sykes said having the cardiac clinic at Estes Park Health is essential for the community.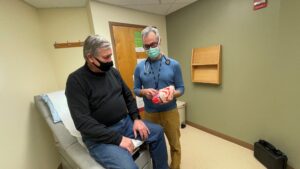 "It's so important," she noted. "I've lived in Estes Park for 37 years year-round and I was a summer resident before that for my entire life. I remember what is was like not to have year-round health care here. People had to go elsewhere. There are people who don't think about their health care until they have to. But others have to plan ahead."
Thirteen years ago, Katy suffered a dissected aorta, a life-threatening cardiac emergency. Her husband called 911 and an ambulance rushed her to the emergency room at Estes Park Health. Due to the complexity and seriousness of her condition, a helicopter was called. The flight nurse realized that it was a dissected aorta and she was flown by helicopter to Medical Center of the Rockies (MCR) where specialists performed emergency surgery in the middle of the night.
"I survived it well," Katy said, "and I have been following up with cardiologists here at Estes Park Health and MCR ever since. Last year, they found a problem during one of my checkups and I had to have another surgery. Dr. Stoltz is the overseer of my care. He's wonderful. He's part of that team who saved my life twice. It's a wonderful thing for our community to have the cardiac care of this caliber in this town."
American Heart Month
American Heart Month is observed to raise awareness on the importance of a healthy heart and to encourage healthy habits that help reduce the risk of heart disease.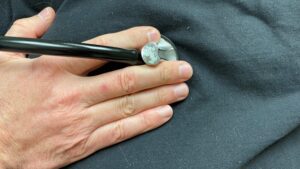 "The key is diet and lifestyle," Dr. Stoltz stated. "There are huge reductions in heart disease later in life in people who stay fit, stay active and have a great diet. There have been fad diets, but the one diet that has been shown time and time again that reduces future strokes, heart attacks and cardiovascular death is the Mediterranean diet. It's a very easy diet to follow. Eat fruits, vegetables, beans, lentils, a little bit of red meat. Other heart-helpful parts of the diet are olive oil and red wine."
Learn about the risk factors for heart disease, the ways you can prevent them and the lifestyle choices that can help you stay healthy. When you need professional cardiac medical care, remember Estes Park Health.