VIDEO: Estes Park Health uses the latest technology to detect breast cancer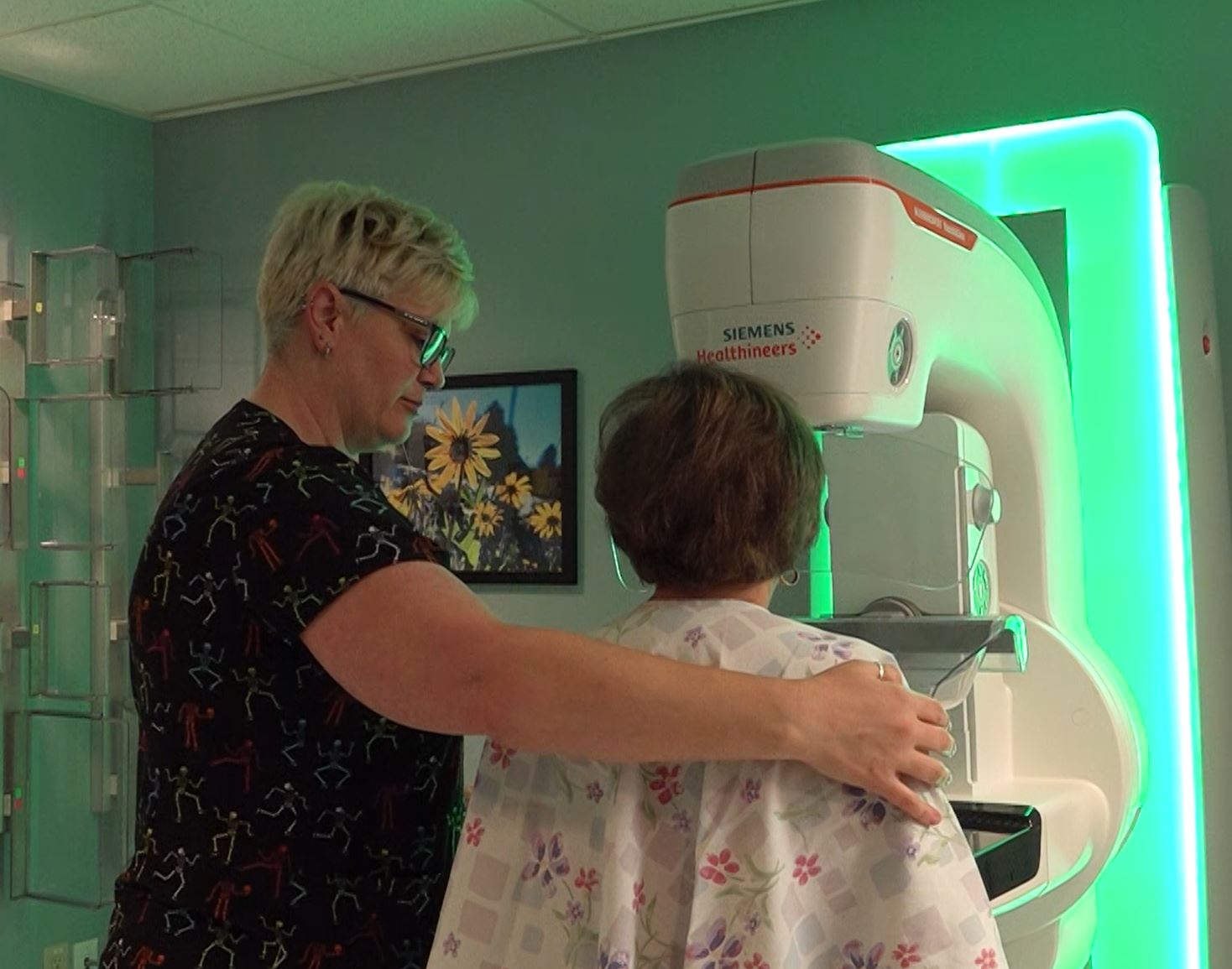 American women have a one in eight chance of developing breast cancer sometime in their lives. Linda Hansen of Estes Park recently took an important step to find out if she could be one of them by having a mammogram at EPH. At age 72, she has been undergoing. screening mammograms for decades.
"It's painless and so far, all of my results have been good so there's no reason not to," Hansen said. "It's just pressure at the most."
Estes Park Health acquired the latest mammography technology in 2020. It's a machine that produces 3D images of the breasts for radiologists to examine.
"All 3D exams still have the original four 2D images," explained Sheila Shirley, EPH Quality, Training and Mammography Lead Technologist. "But then the machine makes an arc so it's moving while it's taking images. And it takes those images and puts them all together into an image that can be manipulated in 3D."
The entire process for a screening mammogram only takes 15 to 20 minutes. However, the yearly exam can detect cancer at its earliest – and most treatable stages – saving many lives.
"I like that I am making a difference for women needing a screen," Shirley added. "I know that nobody looks forward to a mammogram. For me, my job is to make them feel as comfortable as possible so that they come back next year, because if they don't come back, we can't fight breast cancer."
Marcy Kimbro is an Ultrasound Technologist who has worked in the field for 30 years. She gets excited when she talks about the technology she uses to help patients.
"It's a different imaging world," Kimbro stated. "It's completely different from any of the other modalities where I can peer into the human body and see the different organs and possibly the good things and the bad things that are hiding in there. If it's a diagnostic mammogram and a lump or an area needs to be followed up, then I do the breast ultrasound on that area. And it will tell us whether something is solid or cystic, benign, or malignant looking by the shape and by the color doppler that is used sometimes. And then at that point the radiologist can determine whether that patient needs to move on to treatment and have a biopsy or have the cyst aspirated."
Ultrasound is sound waves only. No radiation. The technology goes arm in arm with mammography. Kimbro should know. She has been a patient on the receiving end of these important diagnostic imaging tests.
"I am also a breast cancer survivor and I am now very sympathetic, empathic to the patient to get the information to put their mind at ease," she said.
This year, Estes Park Health began rewarding women who get their mammograms on time – within 13 months of their last one – by handing them a silk rose to reward them for taking care of themselves. Mammogram technologists say the tests you get at EPH are the same ones you will get elsewhere.
"You don't have to drive to get it, but yet we have the same technology," Shirley emphasized. "If you go down the hill, a lot of places you have months to wait until you get in. Our wait times to get in here are pretty quick."
Hanson commented that her service at EPH has always been fast, easy, convenient, and thorough.
Kimbro said EPH's 3D mammography, along with ultrasound, is the top of the line the hospital has ever had.
"Come in and get your mammograms annually and your ultrasounds if you need them," said Kimbro to encourage Estes Park women to take advantage of these services. "You will know you're doing the best thing for yourself. Take care of yourself. Come and see us."
For important cancer screening close to home, think Estes Park Health.
To watch a video about breast cancer screening at EPH, go to https://youtu.be/jh-SwPjtMPA.