Estes Park Health Patient Portal Moves to My Health Connection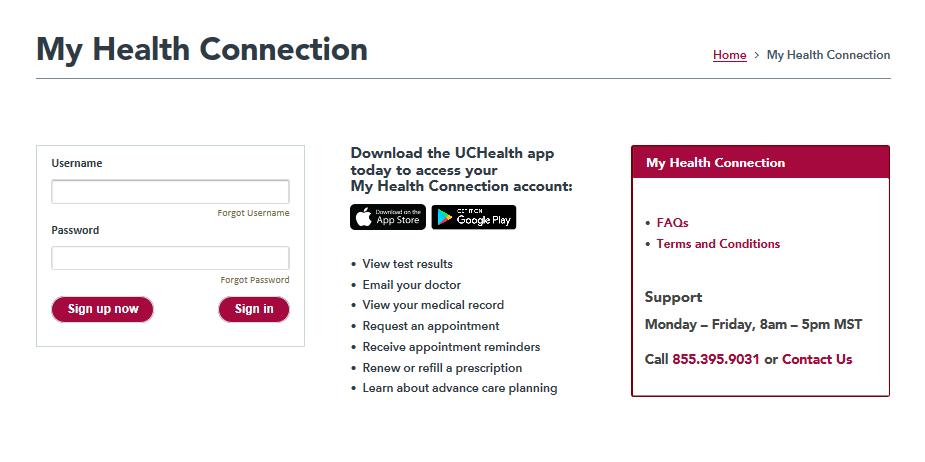 After a careful and thorough search, it was decided that UCHealth's instance of Epic electronic health record (EHR) would serve Estes Park Health patients and providers best. Many Estes Park Health patients also see healthcare providers at UCHealth. Seamless access to clinical charts at both Estes Park Health and UCHealth will improve quality and continuity of care for our patients.  It is important to remember that while Estes Park Health will be sharing our EHR system with UCHealth, we are and will remain an independent organization.
In the change to UCHealth's instance of the Epic EHR,  we will no longer be using the FollowMyHealth patient portal and will move to the My Health Connection patient portal. This may seem confusing because My Health Connection will be UCHealth-branded. The branding is not what is important, what is important is that your EHR will now be accessible to all providers (when they have a valid clinical reason for accessing your medical information) on the Epic EHR system worldwide.
What is a patient portal?
A patient portal gives you greater visibility to your healthcare plan. The My Health Connection patient portal allows you to securely access your medical records, make appointments, receive appointment reminders, renew and refill prescriptions, receive lab and test results online, and communicate with your provider via secure email. If you are a patient of a UCHealth provider and already use My Health Connection, you don't have to sign up for another account. Your Estes Park Health patient information will roll into your current account. You can find complete instructions to sign up for My Health Connection at: eph.org/patients-visitors/patient-portal/. In that location you will also find additional questions and answers about My Health Connection.
If you have additional questions about how to access your account or navigate within My Health Connection, please use https://www.uchealth.org/contact-us/ and select My Health Connection in the reason dropdown. You can also call toll-free at 1-855-395-9031.
Support Hours: Monday – Friday, 8 a.m. to 5 p.m. MST
Depending on volumes, please allow up to one business day to receive a reply. The Contact Us form is not a secure email account and should NOT be used for sharing personal identity or medical information. We recommend only providing your full name and email information. Do NOT send your username and password in the same email and never give your entire Social Security number to anyone.