VIDEO — Estes Park Health offers important cancer screenings close to home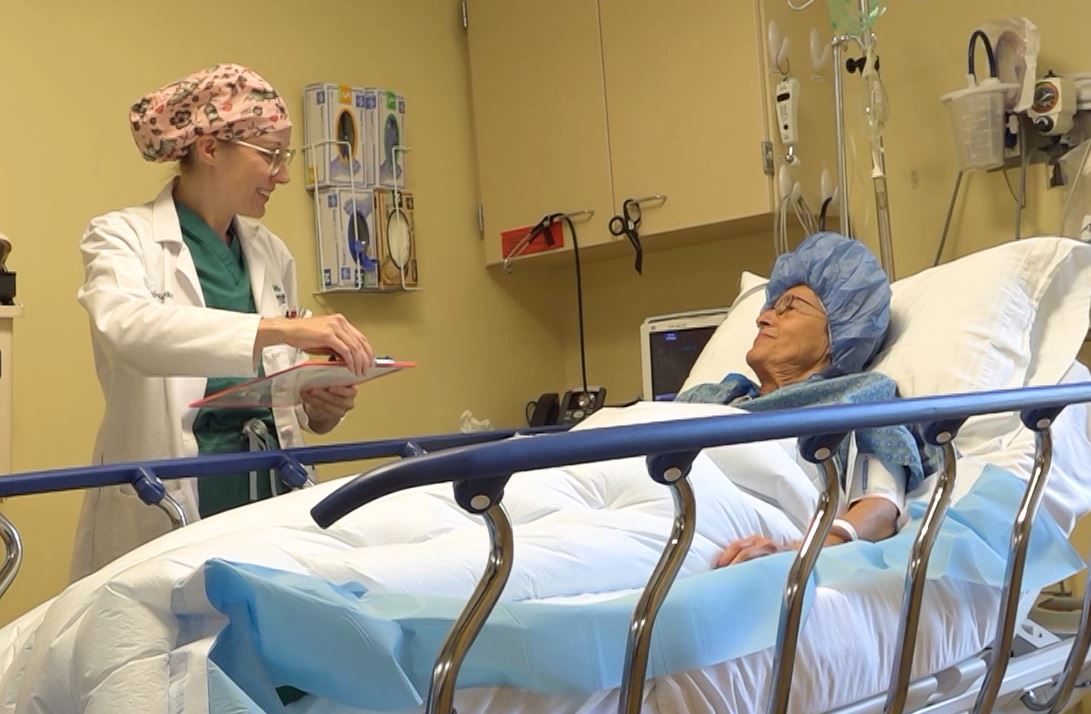 Deborah Adams of Estes Park recently opted for an important test everyone loves to hate: a colonoscopy. Estes Park Health surgeons perform these colon cancer screenings each week for people like Deborah. Her last test was ten years ago, and she is due for another one.
"I've always believed in the importance of prevention," the 69-year-old commented. "But right now, it's especially important because my husband's daughter was recently diagnosed with stage-four colon cancer. It really reminds me how important it is to catch it early."
The screening starts a day ahead of time when the patient takes an oral preparation to cleanse the colon so the physician can get a clear view. In the pre-op area, the patient is hooked up to an IV for sedation.
"The type of anesthesia we use here is called Propofol sedation," explained EPH General Surgeon Dr. Jennifer McLellan. "We have a Certified Registered Nurse Anesthetist (CRNA) who provides that anesthesia to the patient. It's through the IV."
When the patient is taken to the OR, the team gets ready for the quick procedure.
"A colonoscopy is where we use basically a flexible scope, like a small tube that goes inside the rectum. And I can see the entire colon with that," Dr. McLellan said. "Once the scope is inserted, we're looking at the screen and we're able to see very clearly all surfaces of the colon as long as the bowel prep is good."
The live video images are projected onto a large screen where the entire team watches and looks for any signs of growths. Polyps that can turn cancerous can be removed for biopsy at the time of the procedure, making colonoscopies a highly effective diagnostic, screening, and treatment tool.
Patients are totally asleep and remember nothing of the process when they wake up.
"I have done a lot of work to make sure that I keep my skills up with colonoscopy," Dr. McLellan emphasized. "We track our quality data to make sure that we're meeting all the standards that they would receive anywhere else."
The entire process takes about one-and-a-half to two hours from start to finish. Dr. McLellan says it's important for Estes Park Health to offer this important medical procedure in the Estes Valley. The American Cancer Society recommends that people at average risk of colorectal cancer start regular screening at age 45.
"If we weren't offering the service here, patients would have to go down the mountain to get this service and that's no fun for anybody, especially after you've had to do a bowel prep," Dr. McLellan said. "Most people don't want to be driving. I'm really happy that we can offer this here and give people a quality option for their colonoscopy and their colon cancer screening."
Deborah is happy with the convenience and professionalism she encountered when she came in for the test.
"It's wonderful," she commented. "We were so excited when we heard there was someone here now doing colonoscopies. . . It was a long drive down to Loveland. It wasn't easy."
Dr. McLellan stresses that colon cancer is one of the few cancers you can actually prevent with regular screenings.
"I actually enjoy performing colonoscopies," Dr. McLellan stated. "Sometimes they can be challenging. What I really like about it is that we can prevent colon cancer."
Deborah's advice to people who are hesitant to take this important test? Just do it.
"Everyone here at Estes Park is so wonderful and loving and kind," she noted. "It's just a very positive experience besides being really important."
For quality preventive medical care close to home, think Estes Park Health.