Estes Park Health employee to run Boston Marathon
As a maintenance technician for the Facilities Department of Estes Park Health, Manuel Caraballo gets plenty of steps in every day. The four-person EPH facilities crew does everything from snow removal to installing dry wall, from painting to putting together and moving furniture.
"I get about 16,000 steps a day at work, sometimes more than when I am running," Manuel noted.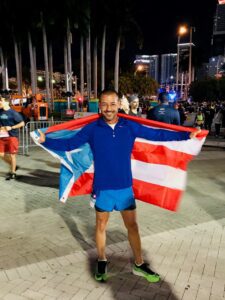 The 48-year-old Puerto Rico native is gearing up for a big challenge on April 17. He is competing in the 127th Boston Marathon hosted by the Boston Athletic Association (B.A.A.). The mission of the nonprofit is to promote a healthy lifestyle through sports, especially running.
Manuel will be one of 30,000 athletes from around the world who take to the streets of Boston to run 26.2 miles. 2023 also marks ten years since the Boston Marathon bombing when terrorists set up two bombs near the finish line, killing three spectators and wounding 260 people.
"On the third Monday in April 2023, athletes will gather with the resilience and spirit that has distinguished the Boston Marathon as the premiere event in road racing," said Jack Fleming, Acting Chief Executive Officer of the B.A.A.
Long Road to Success
Manuel's journey to get to the point where he qualified for the Boston Marathon took years.
"I've been an athlete all of my life," he said. "I started with cycling, body building and progressive calisthenics where you exercise using your own body weight. Then I started running."
He moved from Puerto Rico to Orlando, Florida six years ago for better job opportunities. He moved to Estes Park last year.
Manuel has trained and raced competitively for the last five years, participating in five marathons. He started dreaming about running in the Boston Marathon two years ago when he realized he might be able to qualify.
Living in the mountains presented new, unfamiliar challenges for Manuel. He was totally unfamiliar with altitude and winter training.
"I learned I had a vitamin D deficiency," he explained. "You bundle up all the time in winter. You don't get as much sun. Coming from Florida and before that Puerto Rico, I never thought about it before."
Once he addressed that problem, he was able to run in the Dakota Spirit Marathon in North Dakota in September of 2022. He qualified for the Boston Marathon with one of his personal best times of three hours and three minutes.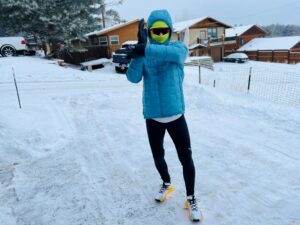 Training in Earnest
In the "off season," Manuel runs about 40 miles a week to stay in shape. He's beginning his 12-week intense training for the big day in April, running up to 70 miles in a week.
"I run everywhere," he stated. "I run around Lake Estes, MacGregor Avenue, Fish Creek Road and Highway 7."
His girlfriend, Sharon Martinez, takes care of the logistics for travel and house so that Manuel can focus on training.
"She is my coach and my supporter and my everything," he stressed.
If you are a runner, Manuel would love some company as he gears up for the competition.
"Come run with me," he emphasized. "Come run even if it's only for a couple of miles. I can go as slowly as you need. I just want the company. Running can get lonely and it can be mentally challenging."
To help him train for, or otherwise support his efforts in the Boston Marathon, contact Manuel at proglasspr@yahoo.com.
Otherwise, if you see a handsome, athletic Puerto Rican running around the roads of Estes Park, give him a thumbs up for moral support!