Estes Park Health cares for the town's many visitors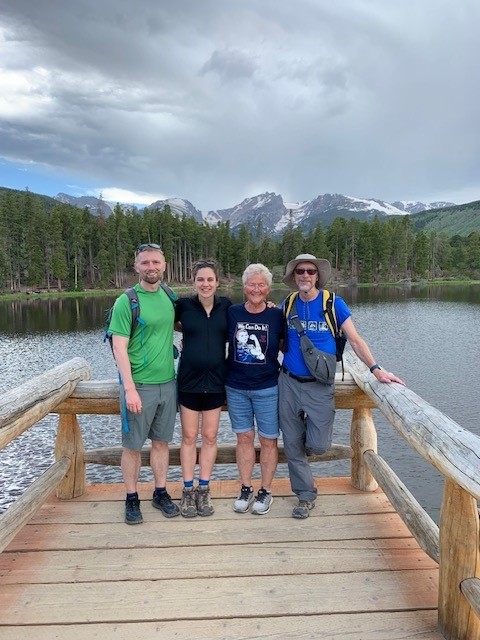 When she came to Estes Park in June, 69-year-old Sandy Swanson of Oak Park, Illinois planned on enjoying her family and the beautiful Rocky Mountains. What she did not plan on was a hospitalization at Estes Park Health.
"We had just started walking around Lily Lake in Rocky Mountain National Park right outside of Estes Park when I tripped and fell on the rocky path," Swanson recalled. "I was drinking water, but clearly not enough for the altitude."
Her husband and son took her to a nearby bench. She felt lightheaded and passed out. On the way back to the car, she passed out several more times, but her husband and son supported her. They all went back to their cabin because none of her symptoms felt like an emergency. Her arm was sore, but she could move it. The side of her leg felt bruised.
When Swanson undressed, she saw a huge lump the size of a softball below her hip, the same hip she had replaced. Then, she passed out again. Her family called an ambulance. Estes Park Health paramedics arrived on the scene and took her to the emergency room at the hospital.
"When we first contacted the patient, she was reclining and was seemingly doing well," recalled Emergency Medical Technician Deborah Francis. "She had swelling in her right thigh and her left forearm was painful. We helped her to her feet, and she fainted. We laid her down and lifted her onto the stretcher. In the ambulance, we started an IV and began giving her fluids. She improved on the way to the hospital. She was very dehydrated."
In the emergency department, Swanson was promptly evaluated by the physician, and x-rays were ordered. An x-ray technologist came to take images of her arm and the side of her thigh, showing a fracture in the head of the right radius of her arm. Her hip was intact, but there was a massive accumulation of blood in her thigh muscle.
"I remember the x-ray technologist was very patient and very creative in taking the x-rays without hurting me too much," Swanson noted.
The emergency doctor gave her a sling for her arm and told her to check with an orthopedist when she got back to Illinois. However, she passed out again when she tried to walk out of the emergency room.
Quickly, she was given more fluids and told she needed to be admitted to the hospital. Hospitalist Dr. Kenneth Epstein took over her care. Her right leg was black and blue and twice as big around as her left leg. Her blood count had fallen.
"Despite having received intravenous fluid in the emergency room, Ms. Swanson continued to have a low blood pressure, and felt lightheaded when she tried to sit up," Dr. Epstein said. "Her thigh was very swollen, and we were concerned that she could still be bleeding into it."
Upon further testing, her care team found that her hemoglobin level was continuing to drop.  A CT scan of her leg showed that she had a large blood clot in her thigh. Dr. Epstein ordered two units of blood to replace what she had lost in her thigh, and afterwards she felt much better.
"When I found out that she had been admitted to the hospital floor, I stopped by the next morning to see how she was doing," EMT Francis commented. "She looked like a totally different person. Receiving the two units of blood made a notable difference for her. She was very appreciative of everything everyone had done for her!"
Once Swanson was stabilized, her care team determined she was well enough to fly home, where she began care with her own physician.
"I feel like I got excellent care at Estes Park Health," Swanson stressed. "They explained what they were doing and why. We made the most out of a bad situation and I appreciate the care I got."
Estes Park Health is committed to caring for the many visitors who stream through Estes Park each year.
"A large portion of the patients we care for at Estes Park Health hospital are tourists," Dr. Epstein pointed out. "We see a combination of admissions for injuries as well as medical illnesses. We pride ourselves in providing excellent, high quality, personalized care for both Estes Valley residents as well as the many tourists who visit our beautiful town. We receive many compliments from the tourists about how impressed they are with the staff of the hospital and the excellent care they receive. Of course, they also love looking out their hospital windows at the mountains!"
For an unexpected side trip on her vacation, Swanson said the experience was positive.
"We won't hold it against Estes Park," she joked. "But we will try not to have Estes Park Health on our itinerary next time we visit."