VIDEO: EPH podiatrist keeps Estes Park patients on their feet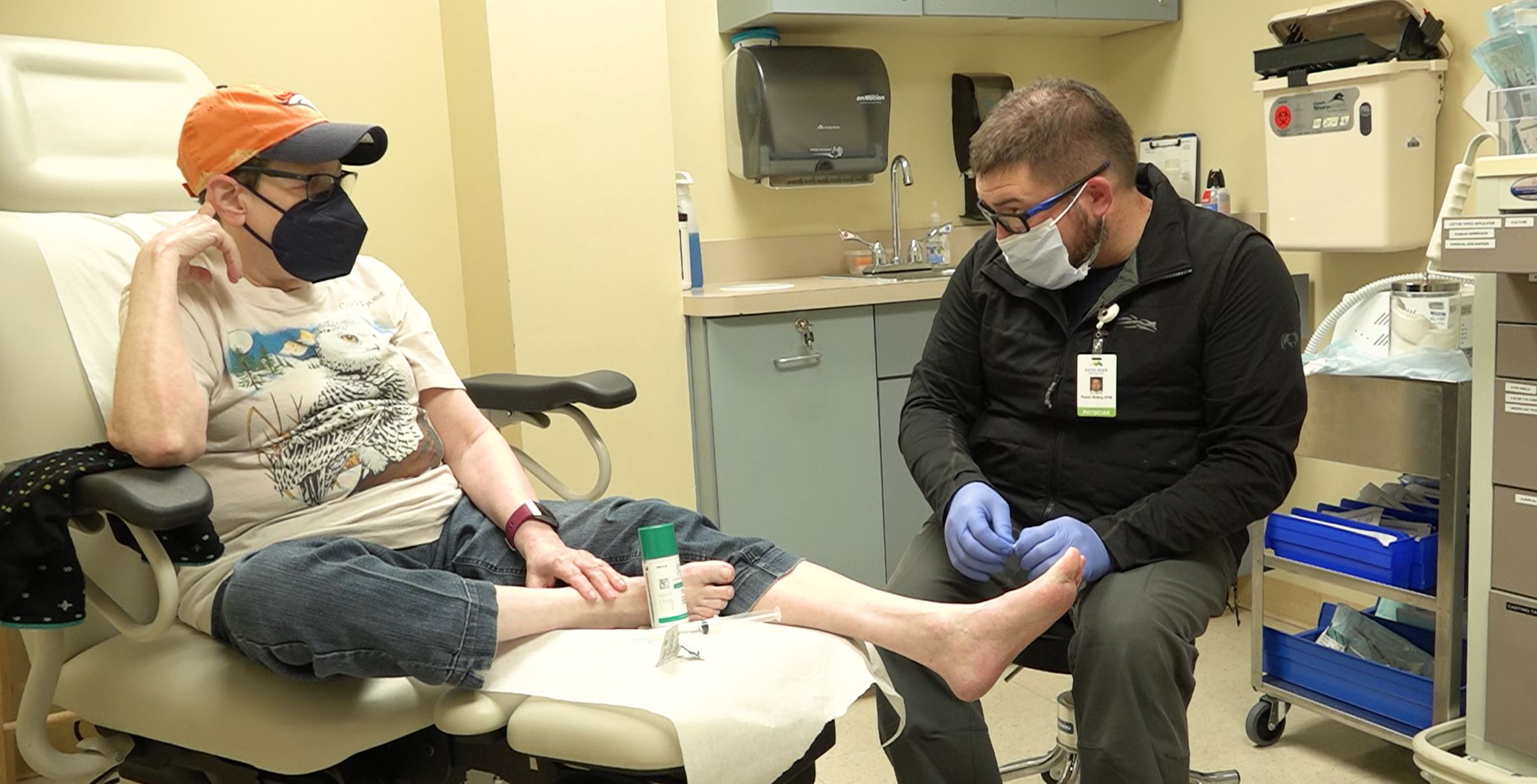 Our feet are amazingly complex. We have 28 bones in the foot and ankle, 30 joints and more than 100 muscles, tendons, and ligaments, all of which work together to provide support, balance, and mobility.
It's no surprise then that people often experience injury, pain or disease involving the feet and ankles that requires the help of a qualified specialist, like Dr. Paxon Riding of Estes Park Health. He's a podiatrist who helps patients in the clinic and performs surgery in the operating room.
"It's hard to avoid problems with your feet," Dr. Riding pointed out. "Anywhere it's not fun to have pain or problems, but when you have to use both your feet anytime you do anything, it's tough to get away with not taking care of it for too long."
EPH patient Rhonda Silberberg of Estes Park is a retired speech language pathologist who has lived in Estes Park for the last 16 years. She relies on Dr. Riding to provide routine foot care. As a diabetic, that's important for her.
"Since I have diabetes, I can't safely clip my toenails by myself," Silberberg said. "We come To Dr. Riding about every 10 to 12 weeks. Being a diabetic, I'm at risk for neuropathy. You can get infections and then eventually your foot would be numb, and you wouldn't be able to tell if you had anything wrong with it or not."
Dr. Riding treats conditions like ingrown toenails, plantar faciitis, bunions, hammer toes, lesions, and ankle pain. He sees patients from babies to seniors. Sometimes the fix is almost immediate. Other times it takes time, investigation and trial and error to solve the issue.
For patients like Rhonda, not having to travel to see a specialist like Dr. Riding is a welcome convenience.
"Oh my gosh," she noted. "We were going down the mountain. It took us an hour to get there. I'm just glad he's here. He's nice. He's gentle. He's knowledgeable."
Dr. Riding said his favorite procedures are those he has planned for pre-operatively, set what time and tools he needs, imagined how he wants it to go and it happens that way. He notes that people who live in the Estes Valley are proactive when it comes to wearing the right gear. The right gear includes good shoes and the right socks to prevent fatigue, injury, or accidents.
For those who are experiencing foot problems that are nagging, painful or debilitating, Dr. Riding is available to get them back on their feet.
"Come see us if your feet hurt," he said.
Rigby: For specialty care to keep you upright and active and enjoying Colorado life at its best, think Estes Park Health.