Dr. Aaron Florence awarded Degree of Fellow from the American Osteopathic Academy of Orthopedics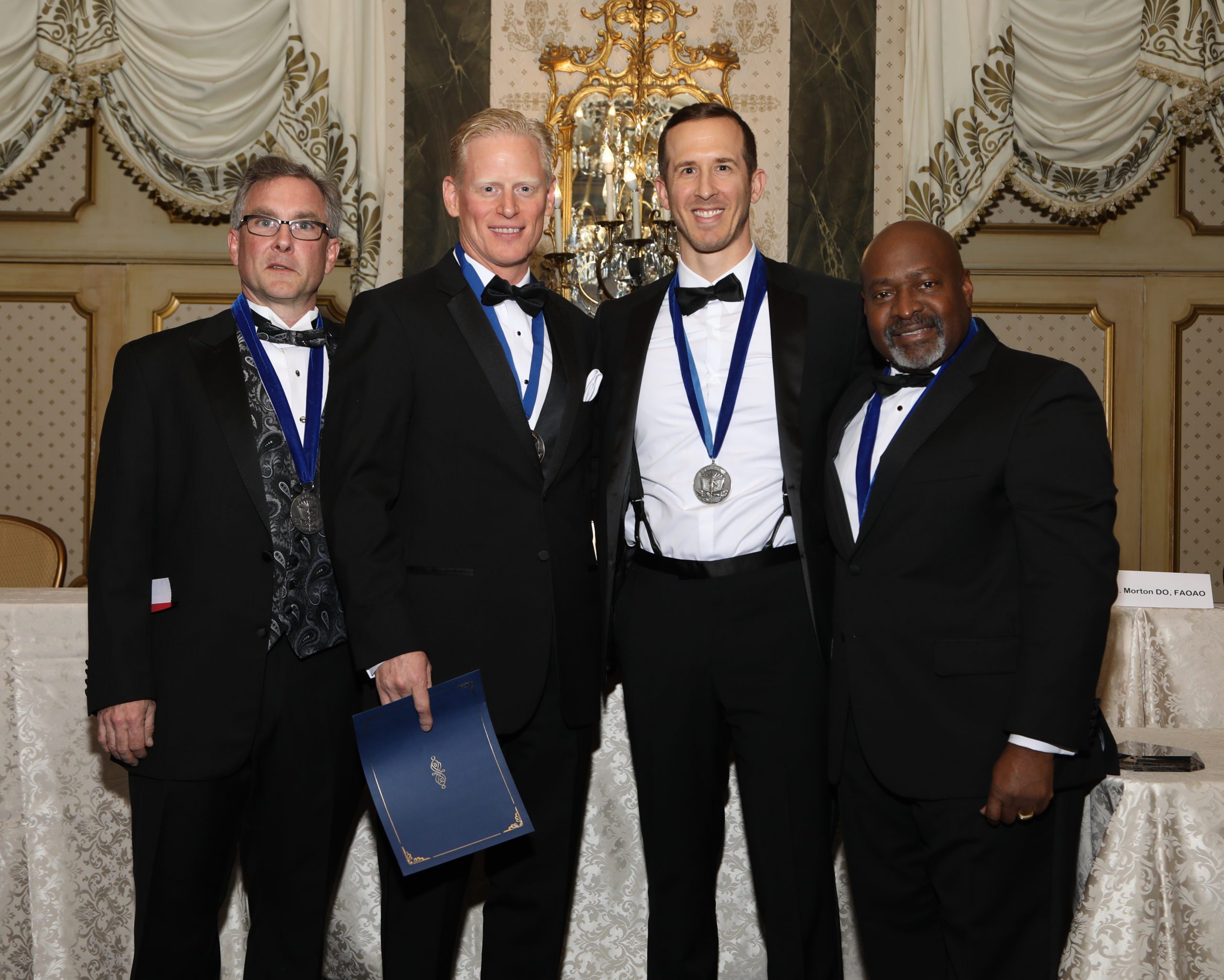 Recently, Aaron Florence, D.O., F.A.O.A.O. was conferred the distinguished Degree of Fellow from the American Osteopathic Academy of Orthopedics. Members of the Academy earn the title of "Fellow of the American Osteopathic Academy of Orthopedics" who provide outstanding achievements and contributions to the healing art, to the practice of Orthopedic Surgery, to research or for such other meritorious services reflecting credit and honor upon this organization and the Osteopathic profession at large. The designation of Degree of Fellow is bestowed upon outstanding members who have served the Academy, their hospital, practice, community and certifying board. Orthopedic surgeons considered for this degree are recognized for their experience in leadership positions within the Academy as well as other member organizations. They are also recognized for their published research and for their role in osteopathic orthopedic education. It was required that Dr. Florence be nominated by an existing fellow to be awarded this degree.   Both national and local activities and initiatives are a prerequisite.
Nationally, Dr. Florence was an Examiner for the Oral Boards of the American Osteopathic Board of Orthopedic Surgery. He was also privileged to be selected to serve with a hand-picked, national group of 25 Orthopedic Sports Medicine Surgeons to develop and write a new national sports medicine examination that is now a required examination for Orthopedic Surgeons to become Board Certified in Sports Medicine. Dr. Florence has also been a panel specialist for the U.S. Trail Running Conference multiple times.
Locally, Dr. Florence has worked with hundreds of Estes Park high school athletes and coaches by starting an injury prevention course in 2011 and providing home game sideline coverage for the football team. In 2014, he also started the Estes Park Medical Center Sports Medicine Academy, and helped to start the Estes Park High School Sports Medicine class and continues to teach students regularly as a guest lecturer. For Estes Park Health, he has served in many leadership positions including Chief of Medical Staff, Vice Chief of Staff, Chair of Credentials Committee, Medical Staff Treasurer, Director of Orthopedic Surgery and Strategic Planning Committee.  Dr. Florence has authored multiple articles in Estes Park's Get Well Live Well Estes and has participated in multiple community lectures.
Dr. Florence started the Orthopedic Service Line at Estes Park Medical Center in 2010 and provides general orthopedic care and surgery for hips, knees, and shoulders—including total joint replacements and fracture care at Estes Park Health.  In addition to training in New York City with team physicians of multiple professional sports teams, his extensive training in Sports Medicine at the Lake Tahoe program prepared Dr. Florence to perform minimally invasive specialized surgeries such as hip arthroscopy, rotator cuff repair and ACL reconstruction in both the young and older injured athlete. "The most important thing I can do for my patients is help them get back to doing the active things that make them happy and make the journey there as comfortable as possible," Dr. Florence says. Dr. Florence has two Board Certifications, one in Orthopedic Surgery and another in Orthopedic Sports Medicine, which is rare for an Orthopedic Surgeon. After working at 16 different hospitals and surgery centers in five different states, Dr. Florence is pleased to base his expertise, practice and all surgical activities under one roof at Estes Park Health.  You can learn more about Dr. Florence by going to providers.eph.org.
Dr. Florence, who has been a resident of Estes Park for nearly 10 years, spends his free time with his wife and five children. "We enjoy indoor and outdoor activities that strengthen our minds, bodies, spirits, and family relationships," he says. His favorite activities are downhill skiing, mountain biking, basketball, hunting, fishing, hiking and carpentry. "I also spend a fair amount of time volunteering at my church and other community organizations in Estes Park."