Estes Park Health in Estes Park Colorado is a strong independent community owned health care provider that offers comprehensive care comprised of skilled, compassionate caregivers. We are a non-profit critical access resource in our mountain community, providing the full spectrum of care for our friends, neighbors and visitors, from pediatrics to geriatrics. With a persistent dedication to patient-focused care, we continue to score high in patient satisfaction surveys.
Ambulance & Emergency Medical Services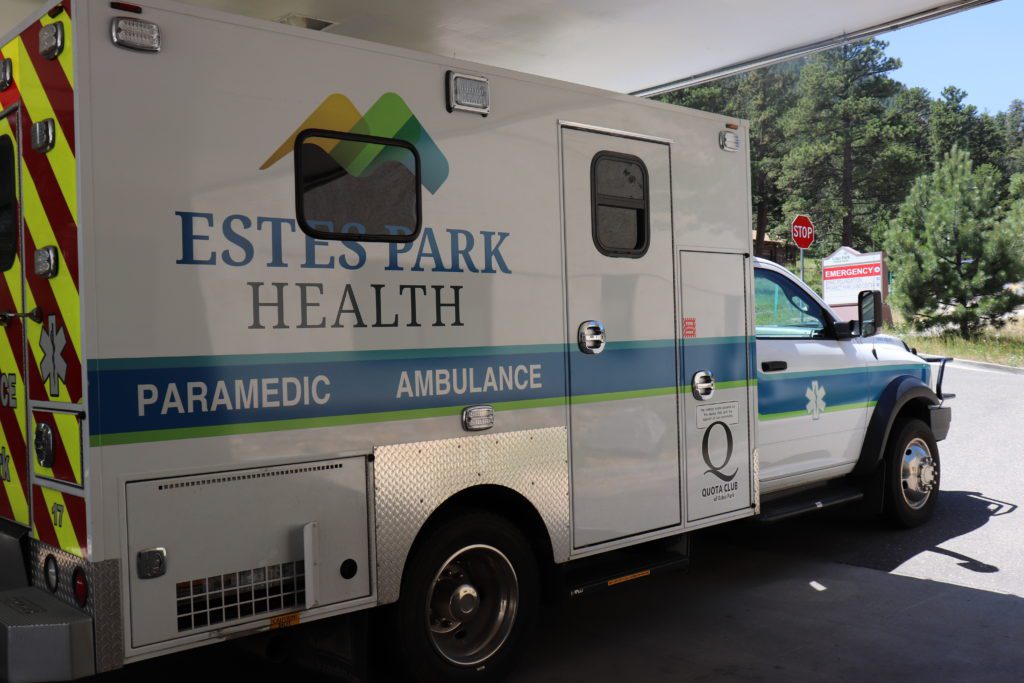 The
Ambulance Department
is owned by the hospital and provides 24-hour Advanced Life Support to our community. From basic care to critical care involving inter-facility transports, our highly skilled EMS paramedics respond to over 2,300 calls each year. Our service area covers over 1,000 square miles including Rocky Mountain National Park, which hosts over 4.5 million visitors annually.
The EMT B-IV responds to 911 calls and requests for inter-facility transfers; performs emergency care and Basic Life Support in pre-hospital settings and may be asked to perform same functions while assisting with patient care in the emergency room.
SHIFT:
PRN as needed, shifts vary.
The shift and hours listed above may be subject to temporary or permanent change at any time according to the needs required to provide excellent and full services to our customers during employment.
POSITION REQUIREMENTS:
High School level or equivalent of education, on-going continuing education required.
Experience can be variable but a minimum of six month preferred.
Current State of Colorado EMT-B certification, valid (COLORADO) driver's license.
Required certifications Healthcare Provider CPR (American Heart Association BLS), IV Certification.  CPR Instructor certifications is preferred but not required.
DUTIES:
The EMT B-IV will perform his/her duties in a manner that ensures his/her own personal safety, as well as that of the other emergency personnel and the patient or patients on the scene. With the assistance of a partner, the EMT B-IV must possess the ability to lift and load a stretcher bearing a 165 – lb manikin. EMT B-IV must also possess ability to work in stressful and harsh weather environment and during any hour of the day or night.,
The EMT B-IV may also be required to assist with community education, staff continuing education, and/or other EMS related educational functions such as EMT or First Responder Classes. He/she may also be requested to perform other non-patient related duties such as assisting with office related functions, performing quality assurance, basic vehicle maintenance (cleaning, stocking, etc.) and assisting at Estes Park Health as requested.
Report for assigned duty shift in timely manner. Participate in shift change communication. Inventory vehicle to ensure that all equipment is operational and adequate supplies are present, and that the vehicle is operational. Report any mechanical problems to the shift supervisor or the maintenance coordinator. Check communication equipment and complete daily check list and documentation.
Receives calls from dispatch and responds verbally to the dispatch center. Communicates with partner, reads maps, runs GPS, may drive ambulance to scene, uses most expeditious route, observes all traffic ordinances, regulations and communicates with responding agencies.
Responsible for knowing local EMS protocols. Determines nature and extent of illness or injury utilizing standard BLS care, performs differential DX and makes determination regarding patient status, establishes priority for emergency care based on and renders appropriate emergency care based on those BLS standards. In addition, assists with ALS protocols and/or direct physician order care when deemed necessary by Paramedic partner.
Communicates patient condition and treatment to receiving medical facility, ensures continuum of care once in the hospital, including appropriate documentation and verbal report.
Ability to work in an environment of strict confidentiality and maintain such an environment, both at work and in off-hours.
Participate in committees as assigned.
Perform in accordance with all local, state, and federal laws and regulatory agency standards;
Perform in accordance with EPH vision, mission and goals;
All other duties as assigned.
Base Pay $15.50 – $19.37 – Plus PRN differential
For more information about this opportunity call Human Resources at 970-577-4458 Monday-Friday 9am-4pm (MST) or e-mail questions to jobs@eph.org.
Equal Opportunity Employer: In compliance with federal law, including the provisions of Title VII of the Civil Rights Act of 1964, Section 503 and 504 of the Rehabilitation Act of 1973 and the Americans with Disabilities Act of 1990, EPH does not discriminate on the basis of race, sex, religion, color, national or ethnic origin, age, disability, or military service in its administration of policies, programs, activities or employment. In addition, EPH does not discriminate on the basis of sexual orientation or gender identity.
The descriptions above are listed as is at the time of posting and could change as needed at any time in accordance with state, local and federal laws.