Estes Park Health Shifts Resources to Accommodate Potential Patient Needs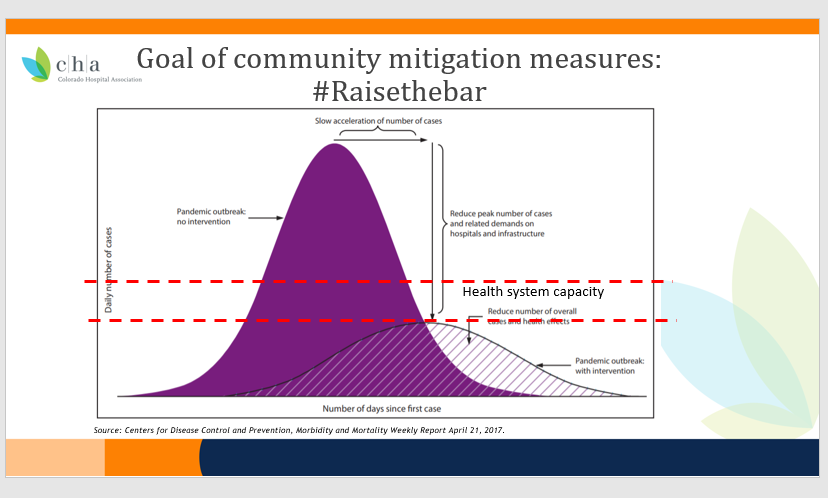 Last week, Estes Park Health started looking at each service line to determine which support services are essential to safely care for our patients needing services. Decisions were made on what support services could be cancelled and/or moved to a later date. We are aware that this has caused some concerns in the community that Estes Park Health is closing. That couldn't be further from the truth! This move frees up providers to be able to focus on potential COVID-19 patients and frees up space within Estes Park Health to care for additional patients as we anticipate and plan for an influx of COVID-19 patients.
Estes Park Health has set up a Clinical Operations Team. This team, in collaboration with the Medical Staff, the Senior Leadership Team, and representatives from all departments, along with guidance from the CDC (Centers for Disease Control and Prevention), and state and local health departments, is making the critical decisions necessary to protect our community and to meet the anticipated need for additional care.
Estes Park Health is currently restricting access into the facility and has postponed all non-emergent appointments, elective surgeries and other procedures. Estes Park Health is taking every measure to ensure our staff has the proper Personal Protective Equipment (PPE) for as long as PPE is needed. All healthcare facilities around the country are currently experiencing PPE shortages. Estes Park Health is working with the county to access the state cache and Strategic National Stockpile (SNS) to maintain our PPE.
Estes Park Health is closely monitoring the "surge" that began last week in Denver and the mountain region where initial positive tests were confirmed. The surge varies across the state, and Estes Park Health is preparing for a surge in our community. Estes Park Health has the benefit of talking with states that are 7-10 days ahead of Colorado in managing this outbreak. A reminder to the public, 80% of people will experience no symptoms or only mild symptoms. Estes Park Health and all healthcare systems around the state, are focused on flattening the curve – extending the time over which patients need hospitalization – and raising the bar – increasing capacity within the facility, improving throughput on the back end of cases and preserving all PPE possible.
Estes Park Health is adhering to the current CDC testing guidelines which prioritizes testing for patients who need to be admitted to the hospital and for health care workers. The ability to process tests by the state and commercial labs has been challenging and there are significant backlogs in obtaining results. While continuing to focus on quality results, the Estes Park Health Laboratory is working on solutions to protect our COVID-19 testing supplies. To reduce turnaround time for differential testing, other test methods are being validated to improve the efficiency of test results currently being sent out to reference labs. The EPH laboratory staff is vigilantly monitoring results from the state to ensure our physicians can accurately diagnose and treat our patients.
Estes Park Health is working under the assumption that any patient we encounter might have COVID-19 and are taking necessary precautions to protect our patients and our staff. As a community, it should be noted that Estes Park Health will give the best possible care to those in need whether the patient has been tested for COVID-19 or not.
Reported illnesses for COVID-19 have ranged from mild to severe symptoms and even death for confirmed coronavirus disease cases. COVID-19 symptoms may appear 2-14 days after exposure. Symptoms include fever, cough and shortness of breath. If you develop emergency warning signs for COVID-19, get medical attention immediately. Emergency warning signs include trouble breathing, persistent pain or pressure in the chest, new confusion or inability to arouse, and bluish lips or face.
Estes Park Health has established a COVID-19 Clinical Assessment Line: 970-577-4400 to answer our community's questions and concerns. Eph.org also has a landing page with community information and links to resources from our trusted resources at the CDC, Colorado Department of Public Health & Environment, and Larimer County Department of Health & Environment.
The Estes Valley community can help us manage this COVID-19 pandemic by adhering to the following guidelines:
Stay home!
Social distance – keep a 6-foot distance between you and other people.
Wash your hands oftenwith soap and water for at least 20 seconds, especially after blowing your nose, coughing, sneezing, or having been in a public place.
If soap and water are not available, use a hand sanitizer that contains at least 60% alcohol.
To the extent possible, avoid touching high-touch surfaces in public places– elevator buttons, door handles, handrails, handshaking with people, etc. Use a tissue or your sleeve to cover your hand or finger if you must touch something.
Avoid touching your face,nose, eyes, etc.
Clean and disinfectyour home to remove germs: practice routine cleaning of frequently touched surfaces (for example: tables, doorknobs, light switches, handles, desks, toilets, faucets, sinks & cellphones)
Avoid crowds,especially in poorly ventilated spaces. Your risk of exposure to respiratory viruses like COVID-19 may increase in crowded, closed-in settings with little air circulation if there are people in the crowd who are sick.
Avoid all non-essential travelincluding road trips, day visits, plane trips, and especially avoid embarking on cruise ships. Take extra measures to put distance between yourself and other people to further reduce your risk of being exposed to this new virus.