Estes Park Health is Leasing Space for the Urgent Care Center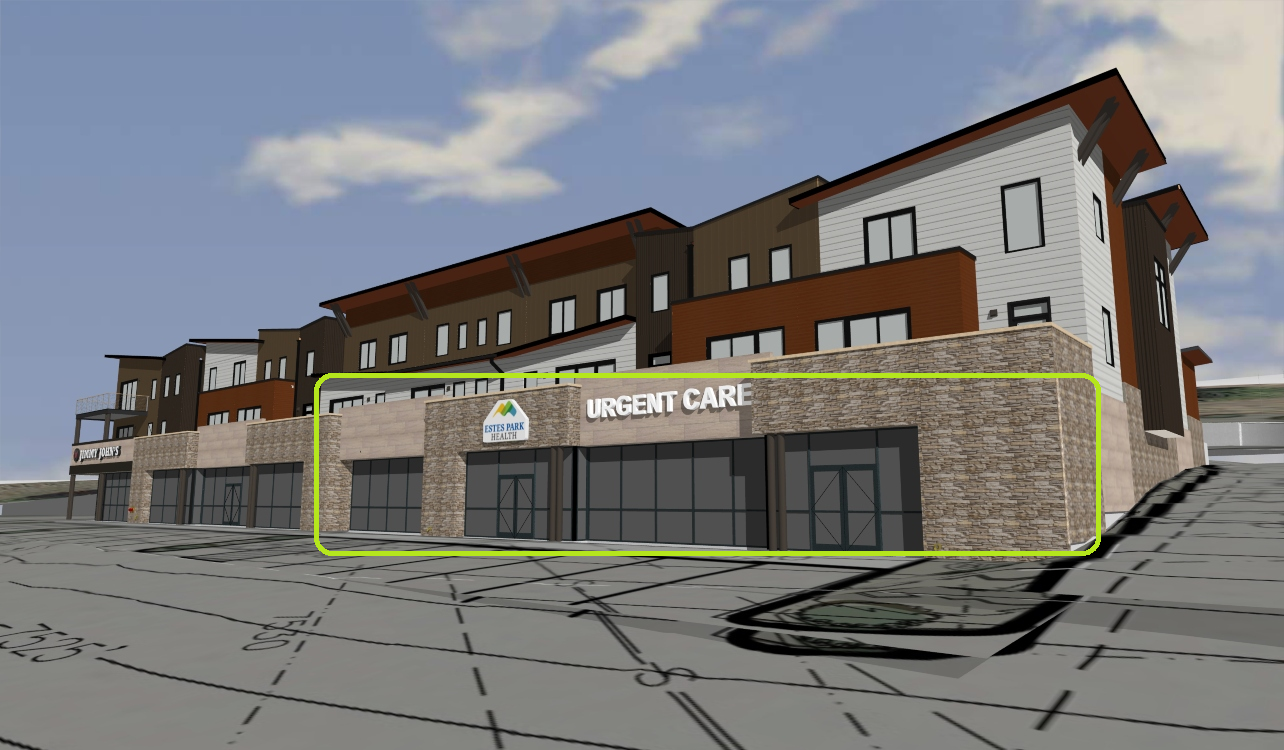 Anticipated Urgent Care Center Opening is Spring 2020
You may have noticed the construction across from the Safeway Gas Station on 420 Steamer Drive. That building project is the future home of Alarado Business Park. You might wonder who the owners/developers are of the Alarado Business Park. The developer of the building and owner of this property is Alarado Properties LLC and they are based in Holdrege, NE. Alarado Properties own a number of Jimmy Johns franchises in Colorado and wanted to open a location in Estes Park. They purchased the property on 420 Steamer Drive their franchise and development. Alarado Properties, LLC is responsible for financing the construction and operation of the Alarado Business Park. The first floor will house the Jimmy Johns restaurant; and Estes Park Health has entered into a lease to occupy the remaining space on the first floor for an Urgent Care Center, Rehabilitation Services and some Specialty Clinic providers.
"Our goal at Estes Park Health is to meet the community's health care needs for our diverse population of full-time residents, summer residents and visitors," states Larry Leaming, Chief Executive Officer of Estes Park Health. Estes Park Health identified that the urgent care needs in the Estes Valley are expected to grow 16% by 2022. One of the key initiatives in the Estes Park Health Strategic Plan is to develop an urgent care service line to open a greater level of access to all health care needs and create an affordable urgent care option.
Why does the Estes Valley need an Urgent Care Center?
Currently, one option for walk-in health care after Estes Park Health Physician Walk-in Clinic hours (8:00 a.m. to 5 p.m. Monday through Friday and 8:00 a.m. to noon on Saturday) is the Estes Park Health Emergency Department. This is an expensive option for care if only urgent care is needed.  Many insurance companies are not paying emergency department fees for conditions that only require urgent care. Nationally, urgent care is growing as a timely and cost-effective health care option positioned between standard physician clinic visits and emergency care.
The Estes Park Health Emergency Department is well prepared to deal with true emergencies that involve life-threatening conditions. Urgent care is a service that is focused on delivering minor, yet urgent, care in a dedicated medical facility outside of a traditional hospital emergency department.  Urgent care centers primarily treat injuries or illnesses that require immediate care but are not serious enough to require a visit to the emergency department. Some examples include:
Accidents and falls
Cuts that don't involve much blood but might need stitches
Breathing difficulties, such as mild to moderate asthma
Diagnostic services, including X-rays and laboratory tests
Eye irritation and redness
Fever or flu
Minor broken bones and fractures in fingers or toes
Moderate back problems
Severe sore throat or cough
Skin rashes and infections
Sprains and strains
Urinary tract infections
Vomiting, diarrhea, or dehydration
For additional information about the Estes Park Health Urgent Care Center, please visit https://eph.org/our-services/urgent-care-center/.