Do your part to protect the health of our community.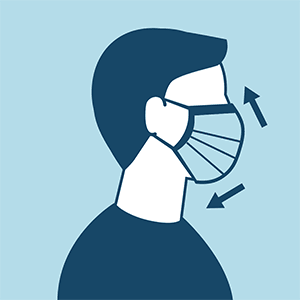 Be Prepared for Safer at Home
Now that the Governor has issued a transition to Safer at Home, Estes Park Health (EPH) has been preparing processes and putting procedures in place to allow our community to access elective services safely. Estes Park Health has been providing many services during the COVID-19 pandemic and has remained opened to care for our community's healthcare needs.
All patients, staff members and vendors are being screened at the main lobby door and at the Emergency Department door with COVID-19 specific questions and everyone's temperature is taken. All patients, staff members and vendors are always required to wear a mask while they are in the facility. Cloth masks are provided at the screening doors for use while in the facility and returned to be cleaned by our EVS laundry staff following CDC laundering guidelines.
All staff at Estes Park Health (EPH) have been working under the assumption that COVID-19 was present in the Estes Valley since February 2020 and have been diligent about wearing appropriate personal protective equipment (PPE) in the facility when interacting with staff and the community who are coming in for services. There are now confirmed COVID-19 cases in Estes Park as the Safer at Home transition begins. EPH understands the desire to get out and try to establish a new normal, but we highly encourage everyone to understand and follow the Safer at Home guidelines.
 Safer at Home from Larimer County website:
Purpose: The purpose of the Safer at Home order is to slowly step-down Stay at Home orders and begin opening the economy while preventing another spike in COVID-19 cases and overwhelming our medical systems. The Safer at Home orders will be in effect through May 26 but can be extended, amended or changed.
Goal: Achieve & maintain 60%-65% physical distancing
General Measures for Safer at Home Phase
Everyone should stay home as much as possible, except for necessary activities, jobs and government functions.
Face coverings must be worn by employees and customers in a place of business.
Face coverings should be worn in any public setting and when outdoor areas are busy.
No gatherings over 10 people and 6 feet of social distance should be maintained.
Sick people may not go to work and should self-isolate for 7 days since symptoms started and at least 72 hours after their fever goes away without fever-reducing medication.
Avoid travel into or out of the community except for essential activities.
Playgrounds and playground equipment are closed.
Larimer County has also provided these guidelines on how we can keep our community safe:
Protecting Yourself and Your Loved Ones From COVID-19…through everyday actions
Frequently and thoroughly wash your hands with soap and water for at least 20 seconds. If soap and water are not available, use hand sanitizer with at least 60% alcohol.
Cover coughs and sneezes with a tissue, then throw the tissue in the trash, or use your inner elbow or sleeve.
Avoid touching your eyes, nose, and mouth with unwashed hands.
Wear a face covering when out.
Clean surfaces in your home and personal items such as cell phones using regular household products.
Continue to practice physical distancing
Stay home, especially if you are sick.
Don't shake hands. Instead, greet people by waving or just saying hello.
Increase the physical distance between people to six feet to help reduce spread. Consider keeping more distance between yourself and others when exercising or when around others who are exercising (biking, running, walking).
Encourage your friends, family, and neighbors to maintain physical distancing.
Postpone travel and stay home unless going out for essential tasks or business. Avoid putting yourself in a situation that might increase the risk given your situation.
Stay connected with loved ones by phone and online. Reach out to people if you need something. Consider if there are ways to attend meetings by phone or online.
 Possible surge in Estes Park
EPH been preparing for the possibility of a surge since February. Our first choice for a COVID-19 patient is to transfer the patient to a hospital down valley with an ICU. If transferring a patient is not possible, EPH has created negative pressure rooms in Operating Room 1 and 2 and one of our Med/Surg 4-room pods to accommodate COVID-19 positive patients and to improve safety for staff. Our CRNAs and Respiratory Therapists have refined their processes and defined equipment to care for ventilated patients. Staff has "drilled" the movement of a COVID-19 patient from the ED to the ORs or negative pressure Med/Surg rooms. EPH Emergency Preparedness Liaison Catherine Cornell is in close contact with Town, county, state and federal officials to monitor number of ICU beds and patient trends as we move to the Safer at Home stage.
Estes Park Health is working tirelessly to refine procedures so that we can continue to provide vital services safely to our community. Please visit eph.org/about-us/news to read the latest news and information vital to Estes Park Health. There are also COVID-19 community resources available at eph.org/covid-19. For questions pertaining to COVID-19, please call 970-577-4400.