DNV-GL Visits Estes Park Health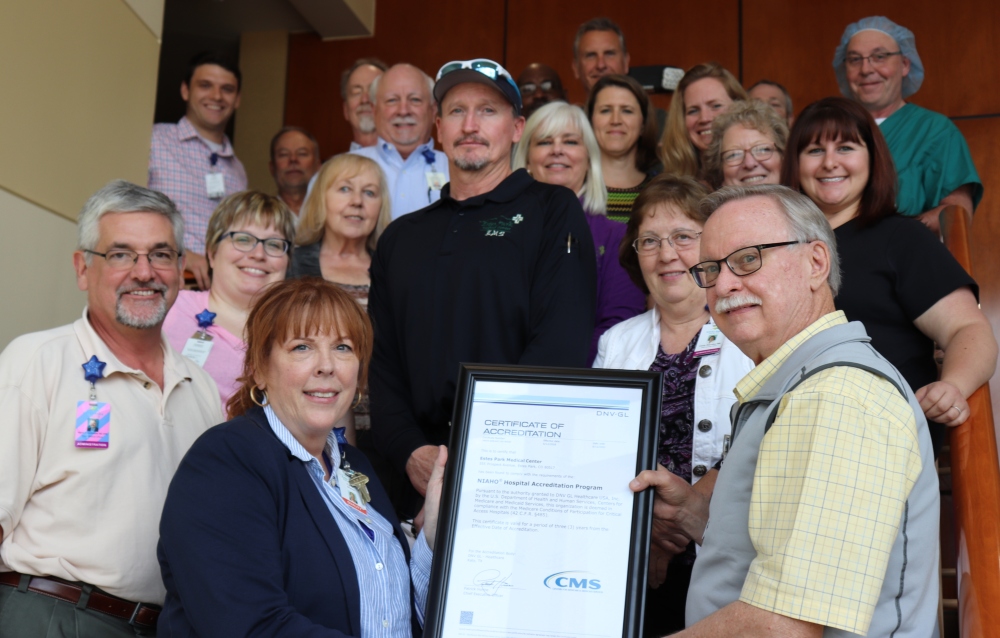 The results of our progress were very good.
 Accreditation is a way for a healthcare organization to meet regulatory standards established by The Centers for Medicare and Medicaid Services (CMS). Not only meeting regulations, but also demonstrating the organization's commitment to high levels of performance and patient care by driving Continuous Quality Improvement. Accreditation programs directly impact the clinical outcomes by improving the structure and process of care which ultimately help in delivering safe, high-quality patient care.
Estes Park Health received accreditation from DNV GL-Healthcare in 2018. DNV-GL's innovative program begins with initial accreditation, then following a three year program integrates ISO 9001 compliance to further develop quality standards to the international level.  Representatives from DNV-GL made an unannounced appearance on March 5, 2019, to review the progress that has been made since their initial visit, and to offer guidance on moving forward toward the ISO 9001 accreditation.
Larry Leaming DHA, FACHE, Estes Park Health CEO shared this with Estes Park Health staff at the end of the survey:
"DNV-GL was here this week to conduct their annual survey. They arrived with four people and finished in a day and a half. Record time for them.  They eliminated 13 of the 14 nonconformities from 2018, and only left us with four recommendations. This is a significant improvement over this past year and it represents a tremendous amount of work well done.  I am amazed and so proud of our progress. This is not an easy task and I want you all to know how much I appreciate your support and dedication to safety and the quality of our care and services. Thank you from the bottom of my heart. It's indeed an honor and a privilege to work with all of you."
Estes Park Health will now create an action plan to eliminate the single remaining and four new recommendations. DNV-GL will make another unscheduled appearance in 2020 to continue to guide us on our ISO 9001 journey. We will be as prepared for that visit as we were for this one. You can learn more about our ISO 9001 journey at eph.org/about-us/quality.